Mets let sweep bid slip away against Nationals
Mets let sweep bid slip away against Nationals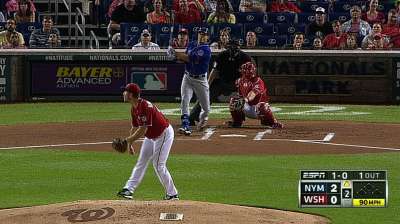 WASHINGTON -- The Mets crept close to locking up a three-game sweep of the Nationals on Sunday night, which would have provided a rousing start to a nine-game road trip and dealt a huge blow to a division rival.
Instead, the Mets' bullpen faltered in a 6-5 loss to the Nationals that left the club to pick up the pieces in the precious few hours ahead of Monday afternoon's series opener in Atlanta.
"Anytime you can win a series is big. This time of year, you've got to win as many as you can," Mets manager Terry Collins said. "Certainly, this is one we're gonna look back on and kick ourselves a little bit for letting it get away. But winning the series is big for us."
The Mets sat four outs away from completing their first four-game winning streak and first road sweep since July 10. But Washington's three-run rally in the eighth inning -- capped by Jayson Werth's go-ahead RBI double off Gonzalez Germen -- left them with a sour taste for their overnight flight to Atlanta, where they were due to land at about 4 a.m. ET, ahead of Monday's 1:10 p.m. game.
Plenty went right for New York. Jon Niese posted another solid start since his return from the disabled list, Lucas Duda had two hits and two RBIs in his first start at first base since Ike Davis suffered a strained right oblique on Saturday, and Matt den Dekker crushed a memorable first Major League home run.
But Niese also left after 5 2/3 innings with a left calf cramp, the banged-up Mets' latest injury, albeit a minor one. The club seemed to tee off on Nationals starter Ross Ohlendorf, yet couldn't put enough runs on the board early to put the game away, as it did in Saturday's 11-3 victory. And the bullpen surrendered four runs in the final 2 1/3 innings, as the Nats pulled within 6 1/2 games of the second National League Wild Card spot.
"A lot of things actually didn't go our way today," Niese said. "A lot of broken-bat hits, ground-ball hits that got through the holes. That's kind of the way it goes sometimes. This game can unravel in a hurry, and you've just got to stay positive and get after it tomorrow."
The Mets led, 5-2, when Niese left in the sixth. Right-hander Scott Atchison came on and got out of the inning, but in the seventh, he gave up an RBI single to Wilson Ramos.
Lefty Scott Rice came on for the eighth and gave up singles to Scott Hairston and Denard Span, leaving after Bryce Harper advanced the runners on a sacrifice bunt. Germen (1-2) got Anthony Rendon to ground out sharply to short, but that drove in a run to make it 5-4.
Ryan Zimmerman then hit a bouncer up the middle. Shortstop Omar Quintanilla ranged to his left, grabbed it, spun and made the throw to first, but it was up the line. Duda had to come off the bag to catch it, and his ensuing throw home was too late to catch Span, who brought in the tying run. It was a taste of the their own medicine for the Mets, who scored a crucial run on Friday when Daniel Murphy scored from second on a groundout to Zimmerman.
"The same thing happened to Ryan the other day at third base," Collins said. "'Q' made that same play the other day. Zimmerman's not that good a runner out of the box, so you've got a play. It's just the throw was off the bag."
Werth then took a low 2-1 fastball from Germen and sliced a line drive to the wall in right-center field, with Zimmerman beating the relay to the plate.
"We were stoked," Harper said. "I was fired up, just unbelievably fired up when J-Dub hit that double. He's always coming up clutch for us. He's been in that situation so many times in his career and that was just an unbelievable moment. I'm very excited for us as a team and excited for him that he got that hit."
Rafael Soriano set down the Mets in order in the ninth for his 36th save.
The Mets jumped on Ohlendorf for a 2-0 first-inning lead, on an RBI double from Murphy and an RBI single from Duda. den Dekker, who picked up his first big league hit and RBI on Saturday, got a meaty fastball in the second and unloaded, launching a solo shot into the second deck in right field.
"We all know he's got power," Collins said. "His Minor League numbers dictate that. I was real happy for him, because the more hits he gets, the more relaxed he's going to be."
den Dekker got the silent treatment upon his return to the dugout before eventually getting congratulated by his teammates. He finished his third big league start 2-for-3.
"First couple games, I had a lot of adrenaline rushing, and today, I kind of calmed down and relaxed and just was able to go out there and play my game," he said.
The Mets added runs on RBI singles by Murphy in the fifth and Duda in the seventh. Duda got his off southpaw Ian Krol after the Nationals issued an intentional walk to Josh Satin. He was hitting .176 against lefties this year and .226 for his career, but Collins asserted that he can handle them.
"He's the perfect example of a guy who sprays the ball around the field, especially against lefties," Collins said.
Niese gave up 10 hits and two walks while striking out four, but allowed only single runs in the second and fourth innings, continually skirting major damage.
Facing Harper with two outs in the sixth, the calf cramp hit as he labored past 90 pitches on a hot and humid night. After Harper walked, Collins and a team trainer visited Niese and took him out of the game. He expects to be fine on Monday and be in line for his next start. That would allow him to avoid becoming the next in a long line of sidelined Mets.
"Yeah, it's that time of year," Niese said. "You've got to take care of your body. Today was tough, it was just so humid. I was crushing Gatorades and waters and still cramping up. I don't see it to be a problem, but yeah, it's that time of year, we've just got to take care of ourselves."
Andrew Simon is a reporter for MLB.com. Follow him on Twitter @HitTheCutoff. This story was not subject to the approval of Major League Baseball or its clubs.