Petit shines as Giants take series from D-backs
Petit shines as Giants take series from D-backs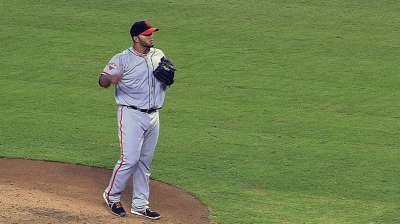 PHOENIX -- Yusmeiro Petit danced upon the proving ground known as September, striking out a career-high 10 batters and driving in a run Sunday to lead the Giants to an 8-2 victory over the Arizona Diamondbacks.
The decision hoisted the Giants out of the National League West cellar, which they previously shared with San Diego. The Giants are trying to avoid becoming the second team to finish in last place one year after winning the World Series.
For non-contenders such as the Giants, the season's final month often creates opportunities for those aspiring to a greater role the following year. Such is the case with Petit, a 28-year-old right-hander who could capitalize on possible changes in San Francisco's starting rotation.
Tim Lincecum and Chad Gaudin are poised to enter free agency. The Giants are unlikely to pick up Barry Zito's $18 million option for 2014. Ryan Vogelsong's $6.5 million option is more affordable, but his return is not yet official. With only Matt Cain and Madison Bumgarner guaranteed to return, Petit thus has an opportunity to claim a spot at the back end of the Giants' starting rotation.
Envisioning how or even whether Petit fits in the Giants' plans for 2014 is impossible to determine at this juncture. But, said manager Bruce Bochy, "He's doing what he needs to do, which is make some noise."
Addressing reporters through an interpreter, roving infield instructor Jose Alguacil, Petit said, "I can worry about only one thing: trying to do my job right now. Whatever they want to do next year is their decision. I don't have control over that."
Petit (2-0) possessed plenty of control against Arizona. He walked one, allowed seven hits and lasted one batter into the seventh inning in what can fairly be called one of the best performances among his 39 Major League starts.
Petit, who struck out the side in each of the first two innings, recorded at least one strikeout in each complete inning he worked except the fifth. He twice fanned Arizona's formidable slugger, Paul Goldschmidt, first with a curveball and then with a cut fastball.
"He's got some savvy out there," Bochy said of Petit.
Arizona manager Kirk Gibson agreed. "He just had a good game plan, he threw a lot of strikes and elevated his fastball, then threw a good chase curveball," Gibson said. "I just don't think the guys were picking him up well at all."
Replacing the injured Cain in San Francisco's rotation, Petit also delivered a capable performance in his previous start last Tuesday, allowing two runs and six hits in six innings as the Giants defeated Colorado, 5-3. Impressed with Petit's ability to win at two challenging ballparks, Bochy indicated that he plans to leave Petit in the rotation, which will require some personnel shuffling when Cain makes his expected return Saturday.
"It's great to have him doing what he's doing. We want to keep looking at him," Bochy said.
Petit has demonstrated effectiveness that he rarely maintained as a member of the D-backs from 2007-09, when he was 9-19 with a 5.05 ERA in 56 games, including 35 starts.
"Experience," Petit said, explaining his improvement. "Before, I wasn't consistent with what I was doing. Now, experience has taken place."
Petit received ample offensive support as San Francisco won its fourth series in a row against the D-backs and improved to 10-5 against them. Hunter Pence collected three hits, lacking a triple for the cycle, and scored three runs. He was twice driven in by Hector Sanchez, whose two-run, two-out double was the biggest hit in a three-run, fourth-inning rally. Petit, who was 3-for-68 lifetime, singled home Sanchez to complete the scoring in the fourth and record his first RBI since 2006 as a member of the Marlins.
"I was just looking to put the ball in play," Petit said.
After Petit departed, Buster Posey sealed the Giants' fifth win in eight games with his third hit, a two-run, ninth-inning double.
The Giants reversed their luck against Arizona starter Patrick Corbin (13-5), who defeated the Giants twice while allowing three earned runs in 14 2/3 innings earlier this year. This time, Corbin worked five innings, surrendering five runs and nine hits.
Asked what was different between the Giants' previous encounters with Corbin and this one, Pence said, "You can't really quantify it that way. You can't be like, 'What he did last time is what he's going to do this time or the next time.' He's a great pitcher and we were able to get some hits when it counted. But he has electric stuff. That's why he's having the success he's had this year."
The Giants kept hitting after Corbin vanished. Their run total was their best since July 31 and their 15-hit output was their largest since July 24, with the exception of their 14-run, 19-hit outburst Aug. 16 at Miami.
Chris Haft is a reporter for MLB.com. This story was not subject to the approval of Major League Baseball or its clubs.