Rays offense unable to support bullpen effort
Rays offense unable to support bullpen effort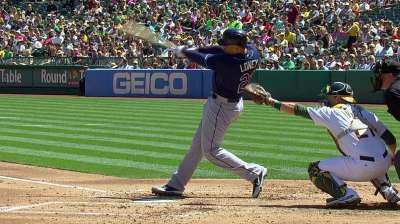 OAKLAND -- Tampa Bay pitchers have combined for a 2.50 ERA over their past four games, and the Rays have lost all of them.
The latest example was Sunday when the Athletics completed a series sweep, beating the Rays, 5-1.
The Rays have scored a total of five runs during their four-game losing streak. They've lost seven of eight overall.
"We didn't play enough offense," Rays manager Joe Maddon said. "When you lose games like this, it will get picked over pretty well. We score runs and those things get overlooked."
The Rays were 4-for-26 with runners in scoring position during their stay in Oakland, a paltry .154 average.
"We'll get through this," Maddon said. "We'll be fine. In a lot of these moments, the right guys have been up in RBI situations. It just didn't work out. You just have to fight your way through it, that's all. It's all about the guys you planned to get you here and you stay with them."
The top four hitters in Tampa Bay's lineup produced one hit in 15 at-bats. The rest of the lineup was 6-for-17.
"It's one of those things that the offense is struggling," Rays outfielder Wil Myers said. "Every run we get it seems like we have to scrap for."
That's what those in the A's dugout were also thinking.
"It's where it all starts with us, the starters," A's manager Bob Melvin said. "If they can get deep in games, going against a staff like they have over there, you know you're not going to score a ton of runs. The whole series, up until the last inning of this game, felt like a couple runners on and you don't know where it's going."
Myers was thrown out at the plate with two outs in the seventh. He had doubled ahead of Desmond Jennings, who singled sharply into left field.
"With two outs you just take off," Maddon said. "Wil froze a little bit. You can slice it any way you want, we have to be more offensive."
The throw from Yoenis Cespedes was cut off by Josh Donaldson, who seemed surprised he had plenty of time to throw home to get Myers.
"I knew the situation," Myers said. "It was a line drive to my right and I froze on it. I should have gotten a better read on it. When you're not scoring runs, things like that get magnified."
For the second straight game, former Rays catcher Stephen Vogt came through with a big hit, this time belting a home run against Jake McGee to make it 3-1 A's in the seventh.
"He's caught me here and there in Spring Training," McGee said. "But that was a really great at-bat. He's down 0-2 and then takes a couple of good pitches. He hit a fastball and I didn't think it was going out and it just keep carrying."
Jamey Wright came out of the bullpen to make his first start since Aug. 25, 2007, with the Texas Rangers.
He lasted 1 2/3 innings, allowing a leadoff home run to Coco Crisp and two other hits. He walked two and struck out one. Alex Torres (4-1) went 3 1/3 innings, allowing an unearned run on three hits and a walk.
"Overall we did pretty well into the seventh," McGee said. "We were only a run down into the seventh. You just have to go one pitch at a time and not get caught up in what the whole team is doing."
The Rays used a total of six relievers, all of whom did well enough to keep the Rays close.
James Loney had two hits, including a home run that tied the game at 1 in the second. It was the Rays' first homer in seven games. Loney entered the game with a Major League-best .362 average on the road.
Brandon Gomes, Wesley Wright, Josh Lueke and Cesar Ramos also appeared on the mound for the Rays, who now head to Anaheim, where they have won 13 of their last 16 games. Evan Longoria has the second-highest batting average (.397) at Angel Stadium among visiting players with at least 50 at-bats.
Rick Eymer is a contributor to MLB.com. This story was not subject to the approval of Major League Baseball or its clubs.