Line drive to hand forces Chatwood out of game
Line drive to hand forces Chatwood out of game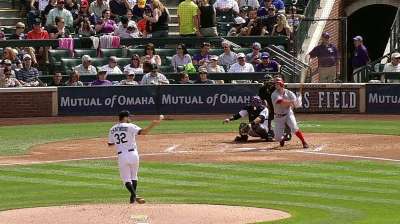 DENVER -- Rockies starter Tyler Chatwood's first start in more than a month lasted all of two-plus innings.
Reds starting pitcher Mike Leake smoked a line drive over the mound and Chatwood reflexively extended his right arm, the ball hitting his fingers and rolling into the outfield for a single in the third inning on Sunday. Manager Walt Weiss said after the Rockies' 7-4 victory that X-rays on his thumb were negative.
The Rockies' staff came out of the dugout to check on Chatwood after the play, but after watching him throw a few pitches, left him in the game.
The next batter, Shin-Soo Choo, sent a two-run homer over the right-field wall to tie the game at 2 and Chatwood walked the next two batters. Weiss and trainer Scott Gehret came back out of the dugout after the second walk and knew his time was up.
"It was sore, and then it started swelling up a little bit and kind of lost a little feeling in there," Chatwood said. "So it was frustrating. You wait a month to start and that happens."
Reliever Adam Ottavino worked his way out of Chatwood's jam to keep it a tie game.
Weiss said the swelling made it difficult for him to throw and Chatwood said he had trouble gripping the ball. However, Chatwood is still confident he'll have enough time to recover before his next scheduled start against the Padres on Saturday.
"I feel like I have a high pain tolerance and I'm able to get through stuff like this," Chatwood said. "So I think I should be able to make my next start."
Sunday was Chatwood's his first start for the Rockies since July 31 and had been on the disabled list since Aug. 7 with right elbow impingement. He said his arm felt great before he sustained the latest injury.
Ian McCue is an associate reporter for MLB.com. This story was not subject to the approval of Major League Baseball or its clubs.