Elliot Johnson displaying versatility since arrival
Elliot Johnson displaying versatility since arrival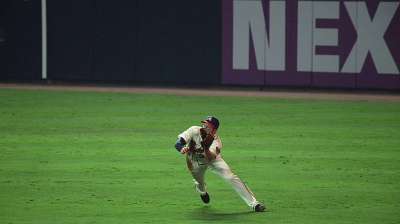 ATLANTA -- While playing for the Rays, Elliot Johnson was playfully called a football player by Chris "Chico" Fernandez, the club's video coordinator. Fernandez was making light of the fact that Johnson's playing time was usually limited to Sundays and an occasional Monday.
Since the Braves claimed him off waivers from the Royals on Aug. 21, Johnson has made the most of the increased playing time he has gained courtesy of a few injuries.
Johnson started five games at second base while Dan Uggla recovered from LASIK surgery and then truly showed his versatility while starting in left field during the first two games of this weekend's series against the Marlins.
"I'd never seen him play in the outfield, but he was really, really good," Braves manager Fredi Gonzalez said. "If you didn't know that wasn't his primary position, you walk in today thinking this guy's a pretty good left fielder."
Before this weekend, Johnson had made just two previous Major League starts as an outfielder, and he played right field on both occasions. But he looked like a seasoned veteran outfielder when he ranged into left-center field to make a diving catch in the fourth inning and then made an impressive shoestring catch to rob Donovan Solano of a leadoff hit in the 10th inning of Saturday night's 11-inning win over the Marlins.
"It's baseball," Johnson said. "If it's hit, go get it and catch it."
Mark Bowman is a reporter for MLB.com. Eric Single is an associate reporter for MLB.com. This story was not subject to the approval of Major League Baseball or its clubs.