Returning faces likely to highlight Giants' callups
Returning faces likely to highlight Giants' callups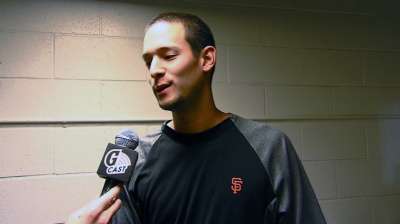 PHOENIX -- At least a couple of players among the Giants' anticipated contingent of September callups will be making their Major League debuts, though most of the group already has seen action with San Francisco.
Right-hander Heath Hembree is expected to be one of the fresh faces the Giants will summon Tuesday, one day after Triple-A Fresno's season concludes. Formerly regarded as the Giants' closer of the future, Hembree entered Sunday with a 1-4 record, a 4.07 ERA, 31 saves and 63 strikeouts in 55 1/3 innings for the Grizzlies. Hembree probably will pitch mostly in a setup role with the Giants.
Others likely to provide bullpen depth include right-handers Jake Dunning and George Kontos. Dunning recorded a 2.84 ERA in 20 games earlier this season with the Giants, while Kontos was 2-2 with a 5.05 ERA in 42 outings with San Francisco.
Position-player possibilities include infielder Nick Noonan and outfielders Francisco Peguero and Juan Perez. It has been speculated that rangy shortstop Ehire Adrianza will receive his first taste of the Major Leagues. A veteran of eight seasons in the Giants' farm system despite being only 24, Adrianza has divided his season between Double-A Richmond and Fresno. He actually has hit for a better average at the higher classification, batting .309 at Fresno and .240 at Richmond.
Manager Bruce Bochy said that he's "leaning" toward adding a catcher to give the Giants a three-man crew of backstops, which would enable them to use switch-batting Hector Sanchez as a pinch-hitter when he's not playing. The most intriguing possibility is Johnny Monell, who has amassed a career-high 20 home runs while hitting .277 in 119 games this season for Fresno. However, the Giants would have to clear a 40-man roster spot to accommodate Monell.
Chris Haft is a reporter for MLB.com. This story was not subject to the approval of Major League Baseball or its clubs.