Young back with club where his career began
Young back with club where his career began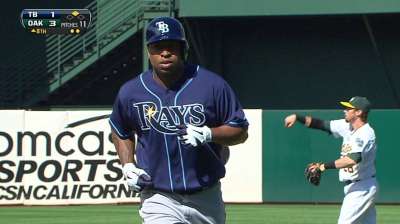 OAKLAND -- Delmon Young, who last played for Tampa Bay on Sept. 30, 2007, walked into the Rays' clubhouse Sunday morning, and it was as though he never left.
"All the players here, we were in Minor League camp together," Young said. "As the years went on, we stayed in contact in passing."
The Rays made Young the first overall pick of the 2003 First-Year Player Draft, and he reached the Majors with them in 2006.
In 2007, when he appeared in all 162 games, he finished second in Rookie of the Year voting before being dealt to the Twins during the offseason.
"The day I got shipped out I began looking for ways to get back," Young said. "It's been a humbling experience, and it's great to be here."
Rays manager Joe Maddon said Young would get plenty of opportunities as a designated hitter or pinch-hitter to make an impact this month, just over two weeks since the Phillies released him.
Young, who started the season on the disabled list after ankle surgery, thinks he's healthier and has his swing back since being released. He went to Arizona to work with a hitting coach on getting his bat head out faster.
After playing a week in Double-A Montgomery, Young returned to where it all began.
"It's always good to be in a race in September," Young said. "My focus has always been on the guys in the American League. I had never even heard of half the guys in the National League."
Young was named last year's AL Championship Series MVP with the Tigers, but that did not translate into a good first season with the Phillies.
"You always think your career will go one way," Young said. "You don't predict that an injury will slow you down."
Rick Eymer is a contributor to MLB.com. This story was not subject to the approval of Major League Baseball or its clubs.