Lohse solid, but Brewers fall inches short
Lohse solid, but Brewers fall inches short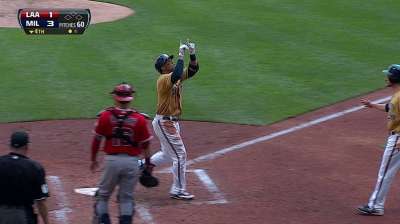 MILWAUKEE -- On Sunday at Miller Park, one ball faded just right and one ball skipped just left to allow the Angels to hold on for a 5-3 win and an Interleague series sweep of the Brewers.
Jonathan Lucroy was on the wrong end of both of those plays in the eighth inning. Lucroy stepped to the plate with the bases loaded and one out against Angels closer Ernesto Frieri and seemed to deliver the big hit twice on back-to-back pitches. His line drive down the right-field line landed inches foul, though, and his subsequent ground ball past the third-base bag drew the same result.
Lucroy eventually struck out, as did Khris Davis, ending the threat.
"That's baseball," Lucroy said. "Sometimes they fall, sometimes they don't. He didn't get me out; I got myself out. I swing at balls and I missed a couple of hangers, so I got myself out, and I'm not too happy about it. But, hey, it is what it is, so you have to live with it."
The Angels, on the other hand, scored three of their runs on a J.B. Shuck bases-loaded grounder that deflected off first base and into right field in the seventh inning, and on Saturday, Hank Conger's ninth-inning home run bounced off the right-field foul pole to give the Angels a 6-5 win.
Brewers manager Ron Roenicke won't buy a lottery ticket any time soon.
"Luck has a lot to do with this game," Roenicke said. "They load the bases, and they hit a ground ball down first base, and it hits the bag and goes over our head. We get the bases loaded, Luc hits a line drive down the right-field line -- inches foul. Hard ground ball down the left-field line -- inches foul. But we didn't hit the ball well today. Four hits, they definitely out hit us, but it came down to a little bit of luck."
It was the first sweep the Brewers have suffered at home since they dropped all four games to the Cardinals May 2-5 (They also dropped both games at Miller Park to start a home-and-away Interleague series with the Twins May 27-28). The Brewers have now lost eight in a row to the Angels in Milwaukee dating back to 1997.
The weekend sweep was especially deflating because of the quality road trip the Brewers recently wrapped up, winning two of three games against both Cincinnati and Pittsburgh, playoff contenders.
"It's tough, because you feel like you're getting going a little bit, and then you turn around, and ... We had a really good chance to win two of these games, so as long as we're having chances to win ... The killer, certainly, was the two-run home run last night. Today, we could have won with a little luck, but we didn't swing the bat that well," said Roenicke.
The Brewers, who finished with four hits to the Angels' 11, looked to be in prime form with Kyle Lohse rebounding from his rough previous start and Carlos Gomez showing signs of life at the plate.
Lohse, coming off one of his worst outings of the season in which he allowed five earned runs and a career-high 13 hits, scattered seven hits Sunday, but he was aided by three double plays to get through six innings of one-run ball. He was pulled with a 3-1 lead after throwing 93 pitches -- 63 for strikes -- and relievers Michael Gonzalez and Rob Wooten coughed up the Brewers' lead in the seventh.
Gonzalez threw just two pitches, the second resulting in a Conger leadoff single, and Wooten gave up three more hits around two intentional walks, the crushing blow coming on a one-out Shuck grounder that bounced off the first-base bag, over first baseman Yuniesky Betancourt and into right field, clearing the bases.
The ball was nearly interfered with by a fan, which would have saved one run, but it caromed off the siding of the stands in foul territory and into shallow right field, allowing all three runners to score on the double.
"I was just hoping it stayed fair," Shuck said. "I saw it, didn't think he could get to it, and then I saw it hit the bag and I was like, 'Aw man, hopefully it gets by him,' because I knew that was going to slow it up. It just worked out."
The Angels tacked on another run in the seventh on a Kole Calhoun two-out RBI double, and the Angels' bullpen took care of the rest.
Roenicke said he made the decision to end Lohse's day prior to the chaotic seventh inning, noticing his right-hander did not have his best stuff.
"He did a great job of keeping us in the game, but he did not have his good command today," Roenicke said. "I talked to him, and we knew what kind of battle it was. He was missing location all game, which is unusual for Kyle. We thought he did his job, and it was a good time to take him out."
Gomez gave the Brewers a two-run lead with his first home run since Aug. 6 in the fourth inning, a two-run shot off Angels starter C.J. Wilson. Gomez turned on a first-pitch curveball from Wilson and delivered his first two RBIs since Aug. 10.
Lohse helped his own cause in the third. Jeff Bianchi led off with a double and advanced to third on a fielding error, and Lohse laid down a squeeze bunt one batter later. Wilson's quick glove flip to Conger was a bit high, and Bianchi slid in feet first just before the tag to make it 1-1.
"We're showing that we're not quitting. We're out there battling," Lohse said. "It was a tough series for us there."
Mike Trout finished a home run shy of the cycle, hitting a double, triple and single in his first three at-bats against Lohse and drawing one of the two intentional walks in the Angels' four-run seventh inning.
Kevin Massoth is an associate reporter for MLB.com This story was not subject to the approval of Major League Baseball or its clubs.