Resurgent Frieri seals win to cap terrific trip
Resurgent Frieri seals win to cap terrific trip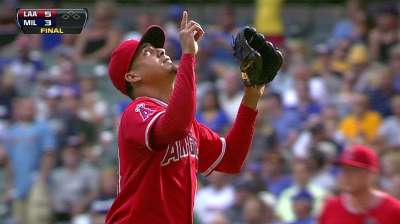 MILWAUKEE -- Ernesto Frieri started the at-bat with five consecutive mid-90s four-seam fastballs, and Jonathan Lucroy didn't go anywhere. Then Frieri decided he'd mix it up. He'd come with the slider, get him off balance and finally retire the Brewers' catcher for the second out of a bases-loaded situation in the eighth.
But Lucroy fouled that one off, and Frieri realized that he was in for the battle of his life.
"He just made contact," Frieri said. "I don't know how he did it, but he did. He's great. He's a really, really, really good hitter."
The at-bat lasted 12 pitches -- including two hard-hit balls that were inches shy of landing fair and changing the complexion of Sunday's series finale -- and ended on a Frieri strikeout, the Angels' closer finally retiring Lucroy swinging on a 95-mph fastball that was a tad outside.
With his next 14 pitches, Frieri recorded four more outs, finished off a five-out save and sealed the Angels' eighth win of their nine-game road trip, the last being a come-from-behind 5-3 effort at Miller Park.
Afterwards, Frieri could laugh about perhaps the toughest encounter of his career.
"When you're out there, you don't think about it -- you're just trying to do your job and help the team," Frieri said, bags of ice sitting on his right elbow and shoulder. "But yeah, honestly, after I got the last out, I was like, 'Oh man, I'm tired.' We played a really good game, and we deserved the win."
C.J. Wilson pitched six innings of three-run ball, Mike Trout finished a homer shy of his second cycle this season, J.B. Shuck drove in the winning run with a two-out, three-run double, and Frieri notched his sixth save of at least four outs this season.
The sweep at Miller Park came after the Angels took two of three at Tropicana Field, which followed a three-game sweep at Safeco Field. It marked the first time the Angels won three straight series since taking four in a row June 25 to July 7.
And though they're 63-72 and 15 1/2 games out of first place on Sept. 1, it's something to build on.
"Best one we've had all year," Wilson said of the three-city road trip. "With some of the guys we have here, obviously the majority of them are returning, so if we can just kind of go into the last month with some momentum like this, it'll be a good way to head into the offseason. Obviously, we started off poorly and haven't really played to our potential all year, but this has been a good showing the last couple of weeks."
The most obvious sign that things have gone the Angels' way lately came on the Shuck double.
Down two in the seventh, Hank Conger and Luis Jimenez led off with singles and Andrew Romine moved them over with a sacrifice bunt. Josh Hamilton then pinch-hit for Wilson and was intentionally walked by righty Rob Wooten.
Shuck's ensuing grounder rolled down the line, catapulted off first base, sailed into right field, caromed off the fence and bounced awkwardly, allowing all three runs to score.
"I was just hoping it stayed fair," Shuck said. "I saw it, didn't think he could get to it, and then I saw it hit the bag, and I was like, 'Aw man, hopefully it gets by him,' because I knew that was going to slow it up. It just worked out."
Two batters later, with Shuck on second and two outs, Trout -- who doubled in the first, tripled in the third and singled in the sixth -- was walked intentionally, robbing him of another chance at a cycle and surprisingly drawing boos from an opposing crowd of 29,733.
"You gotta play the game," Trout said. "But I wanted to hit, obviously."
The next batter, Kole Calhoun, muscled a ground-rule double into left-center field to give the Angels a two-run lead. Two innings later, the usually reliable Dane De La Rosa got into trouble. And so in the eighth, with the bases loaded, one out and the Angels clinging to a two-run lead, manager Mike Scioscia went to the guy he removed from the ninth-inning role just one month ago.
Due up was Lucroy, who entered 4-for-11 in this series, was batting .315 with runners in scoring position and ranked 31st in the Majors in pitches seen per plate appearance (4.01).
Pitch No. 1: Fastball, outside corner called strike.
Pitch No. 2: High fastball, fouled back.
Pitch No. 3: Low fastball, fouled to right field.
Pitch No. 4: High fastball for Ball 1.
Pitch No. 5: High fastball, fouled into the right-field seats, prompting a mound visit.
Pitch No. 6: Low slider, defensive swing to foul it off.
Pitch No. 7: High-and-outside fastball, fouled into the right-field seats, drawing hearty applause.
Pitch No. 8: Low-and-outside fastball, lined down the right-field line, foul by a couple inches, and -- with the speedy Jean Segura on first -- could've scored three if it stayed fair.
"That was going to be a triple," Frieri said. "Easy."
Pitch No. 9: Inside fastball, resulting in a hard grounder to third that stayed foul by about a foot.
Pitch No. 10: Slider, fouled towards the third-base side, drawing a standing ovation.
Pitch No. 11: Another slider, this one a hanger, fouled into the right-field seats.
Pitch No. 12: Fastball, 95 mph, a few inches off the plate. Lucroy comes up empty. Strikeout. Finally.
"Hey, it's the way the game is," Lucroy said. "That's baseball. Sometimes they fall, sometimes they don't. He didn't get me out; I got myself out. I swing at balls, and I missed a couple of hangers, so I got myself out, and I'm not too happy about it. But, hey, it is what it is, so you have to live with it."
However it happened, Frieri recorded the out, struck out the next three hitters and finished the game with a lazy flyout by Jeff Bianchi. It went for his 30th save and gave him 10 2/3 consecutive scoreless innings.
Less than four weeks ago, the 28-year-old right-hander went through a seven-outing stretch that saw him give up 12 runs in 4 2/3 innings and temporarily lose his job.
This is a different Frieri.
"My confidence came back," he said. "In the past, I was thinking so much, worrying about things in and out of baseball. But now, I'm going out there and having fun. I forgot about that. One month ago, I wasn't having fun. I was worried so much about some stupid things. But finally, I'm having fun, we're playing good baseball. It's good to come to the ballpark and see the team that we are right now."
Alden Gonzalez is a reporter for MLB.com. Read his blog, Gonzo and "The Show", and follow him on Twitter @Alden_Gonzalez. This story was not subject to the approval of Major League Baseball or its clubs.