Rutledge looks to contribute after September callup
Rutledge looks to contribute after September callup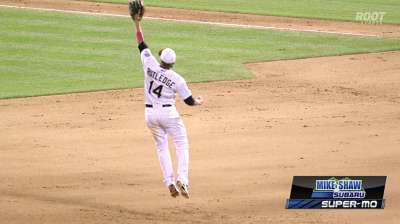 DENVER -- Infielder Josh Rutledge will get another chance to prove he hasn't fallen victim to the "sophomore slump."
Rutledge was available in Sunday's series finale against the Reds after spending six weeks with Triple-A Colorado Springs, manager Walt Weiss said. He's the Rockies' first September callup as rosters expand to 40 players.
An Opening Day starter, Rutledge shined as a rookie last year when he filled in at shortstop for the injured Troy Tulowitzki. Moving to the big leagues straight from Double-A Tulsa after the 2012 All-Star break, Rutledge made a big splash, hitting .375 with 13 extra-base hits in his first 18 games.
Rutledge finished the year hitting .274 with eight homers and 37 RBIs, as his speed and ability to hit to all fields set him up to be a staple of the Rockies' infield.
"He's a very talented player," Weiss said. "It's just that second year is a tough year, and I think he experienced some of that this year. But there's no question about the ability and the athleticism."
Things haven't come so easily in year No. 2, when Rutledge had a .211 average with six homers and only 16 RBIs before he was sent to the Minors for the second time July 20.
Triple-A has allowed Rutledge to showcase his offensive talent, as he's hitting .371 with four homers and 24 RBIs with a .444 on-base percentage in 38 games with the Sky Sox. That may have been enough to bolster the confidence that seemed to fade during his sophomore campaign.
"It's tough to hear any of that stuff when you're a player and you get sent out, because you're disappointed, maybe discouraged and all you hear is you're getting sent out," Weiss said. "But I think Rut knows that we believe in his ability and [Sky Sox manager] Glenallen Hill spent a lot of time with him down there, just talking to him about the mental part of the game."
The Rockies also activated starting pitcher Tyler Chatwood (7-4, 3.15 ERA) before he made his first start since July 31 Sunday afternoon.
Weiss said he doesn't plan to make any moves Monday, but more callups will come Tuesday after the Triple-A season ends.
Ian McCue is an associate reporter for MLB.com. This story was not subject to the approval of Major League Baseball or its clubs.