Choice among A's callups as rosters expand
Choice among A's callups as rosters expand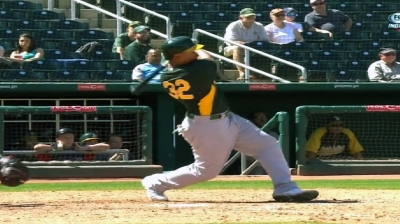 OAKLAND -- With the calendar turning to September on Sunday, the A's called up outfielder Michael Choice, infielders Jemile Weeks and Andy Parrino and left-hander Pedro Figueroa as Major League rosters expanded across baseball.
Choice, the 10th overall pick in the 2010 First-Year Player Draft and the A's second-best prospect, batted a career-high .302 with 14 home runs and a career-high 89 RBIs in 132 games with Triple-A Sacramento and also had career highs in runs (90) and on-base percentage (.390).
The A's rewarded his performance with his first Major League callup, while Weeks, Oakland's everyday second baseman for much of 2011-12, returns to the big league club.
He batted .271 with four home runs and 40 RBIs in 130 games, adding 80 walks for a .376 on-base percentage, and he even played a bit of outfield for the first time in his career.
Parrino, making his second Major League appearance of the season, should provide defensive stability at the shortstop position, particularly in late-game situations, and Figueroa will be used mostly as a left-handed specialist.
"In the position that we're in, you add guys that are potentially not going to just sit around," A's manager Bob Melvin said. "All of these guys are here for a reason. How much playing time they get, I'm not sure at this point. And that usually plays out. But they were all brought up for a reason."
Melvin said Choice is capable of playing all outfield positions but will mostly play in the corner spots if he's to get an opportunity. He's hit .323 since the All-Star break.
"I'm swinging the bat well," Choice said. "I kind of got into a groove."
Weeks volunteered to play in the outfield in an attempt to show versatility and accelerate his return to the Majors, though with the A's outfield depth it's improbable that he plays anywhere but in the infield, which Weeks said is fine with him.
"It's a great time. It's exciting," he said. "I've been waiting for an opportunity, and when I get it I'll try to make the most of it."
Jeff Kirshman is an associate reporter for MLB.com. This story was not subject to the approval of Major League Baseball or its clubs.