Determined Gordon returns to Los Angeles
Determined Gordon returns to Los Angeles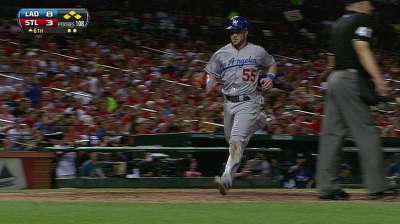 LOS ANGELES -- The Dodgers Sunday recalled Dee Gordon. Remember him?
In 2011 he was the best prospect in the organization. In 2012 he was the Opening Day starting shortstop. But his bat regressed, he tore up his thumb, the Dodgers dealt for Hanley Ramirez and Gordon's career hit the wall. He spent all but 25 games at Triple-A this year.
"It's been crazy," he said.
But if you think Gordon is bitter about the dramatic change in his career path, listen to this.
"That's the situation I'm presented and I've just handled it," said Gordon. "You've got to be a man sometimes."
Gordon admits that he got down last year after the injury was followed by the Ramirez trade. But his approach this year was positive.
"I might not have the highest batting average [.297], but I've gotten better as a hitter," he said. "There's a process now to the way I play. I'm a lot better on the defensive side. I've worked on that and seen the results. It's been awesome.
"I know I'm a better player. I'm definitely a stronger man for this. I'm not trying to pull the God card, but I'm better with God, too. I can definitely say this: good has come out of this."
Ken Gurnick is a reporter for MLB.com. This story was not subject to the approval of Major League Baseball or its clubs.