Puig backs Greinke as Dodgers sweep Padres
Puig backs Greinke as Dodgers sweep Padres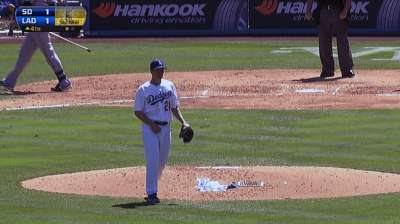 LOS ANGELES -- With their biggest lead in 35 years, the Dodgers opened September while eagerly anticipating October.
The team that seemingly can do no wrong completed a series sweep Sunday with a 2-1 win over the Padres, rookie Yasiel Puig slugging a tiebreaking homer on Cuban Heritage Day and Zack Greinke's win streak reaching six with seven innings of two-hit ball.
The Dodgers lead the division by a staggering 11 1/2 games with 26 to play, their biggest lead since 1977. They are 34-8 since the All-Star break, 51-13 since June 22 and they've only "slowed" to the point of winning seven of the last 12.
"A 20-game swing is almost unheard of," said manager Don Mattingly, whose team trailed by 9 1/2 games June 21. "But the only way to do it is to do what we've done. Our guys grind it pretty good, relentless from the standpoint of being ready to play every day and putting wins on the board."
"Of course, everybody is very excited about [heading toward] the playoffs," Puig said through an interpreter, his storybook debut season showing no signs of an unhappy ending.
Puig was joined in celebrating his roots by Cuban-American teammate and reliever Paco Rodriguez, who bailed Ronald Belisario out of an eighth-inning jam and set up the 17th consecutive save by Kenley Jansen.
Adrian Gonzalez-- whose Boston team let a nine-game lead in the Wild Card on Sept. 3, 2011, get away -- said this Dodgers team has something those Red Sox did not.
"Pitching," said Gonzalez, who played the entire game after turning his left ankle while coming out of the batter's box in the first inning. "Pitching wins. Easy answer. You get to the playoffs, you don't win by just hitting the ball."
Greinke, now 14-3 with a 2.78 ERA after striking out seven and allowing two walks, has allowed 13 runs in his last 11 starts. He is 11-1 since June 16 and the Dodgers are 19-4 in his starts.
He said he's never had a more consistent run with his location and he's doing everything he can to keep it going another couple of months.
"I just don't want to waste all the good starts now," he said. "I'm just trying to keep things where they are and improve on the stuff that's not working as good as I want it to be."
Rodriguez handled the game's biggest pressure spot by retiring both batters he faced to strand the tying run at third base in the eighth.
"Doing what I did and doing what Puig did made today that much more special," said Rodriguez. "It shows how much our heritage means. I have extra pride knowing how many Cubans were out there."
And a confident Jansen struck out the side, giving him 100 punchouts on the season. He's fanned nine of the last 11 batters he's faced.
"I guess if you keep throwing and they keep swinging and missing, you get confident," Mattingly said of Jansen's emergence as an elite closer.
But there's elite pitching all over the place, from Greinke and Clayton Kershaw to three former All-Star closers, from top rookie starter Hyun-Jin Ryu to timely acquisition Ricky Nolasco.
"Obviously, pitching is really what this thing is built on," said Mattingly. "We have big names in the lineup, but what Stan [Kasten, president] talked about coming in, pitching is what does it. It's not as glamorous. But that's how you win 2-1, 1-0, 3-2."
Greinke also padded his Silver Slugger candidacy with a single (.347 average) and even stole his second base of the season, the first Dodgers pitcher to do that since Orel Hershiser in 1987.
Greinke, who missed a month with a broken collarbone suffered in a brawl against San Diego, did break a personal rule with a head-first slide on the steal.
"It was a last-minute decision," he said. "I felt it was safer than feet first. Maybe I was wrong. My No. 1 goal is to not get hurt. I didn't feel it was risky at all."
"As long as he doesn't get hurt, it's fine," said Mattingly. "The guy's shown he's a good athlete. Offensively, defensively, the guy's a baseball player and we have to let him be a baseball player. He knew the [pitcher] was giving [the base] to him."
Greinke was lifted for a pinch-hitter in the bottom of the seventh having thrown 95 pitches on a hot and muggy day, after a lengthy dugout meeting with Mattingly and pitching coach Rick Honeycutt. He was coming off a season-high 122-pitch start against the Cubs, when he fell one out shy of a complete game.
Mark Ellis, Saturday night's hero, singled home Carl Crawford in the third inning to tie the game at 1-1. Then Puig, jumping on the first pitch as he loves to do, crushed a hanging breaking ball from Dale Thayer into the left-center stands with one out in the sixth for his 14th homer in 79 games and fourth against San Diego. It was his second hit of the game.
"You look at all the pieces they have, and it's a nice group of players," said Padres manager Bud Black. "But there's some other good teams in the National League."
Ken Gurnick is a reporter for MLB.com. This story was not subject to the approval of Major League Baseball or its clubs.