Verlander looks like old self as Tigers fall to Tribe
Verlander looks like old self as Tigers fall to Tribe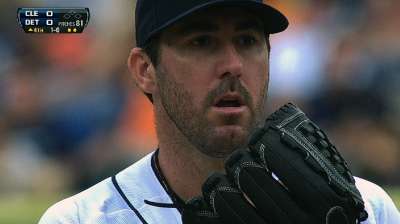 DETROIT -- On a lot of days, this would've been a game to regret. Sunday wasn't one of them. The Tigers' success against the Indians has been too frequent, and Justin Verlander's gems have been too few.
The Tigers never did score a run. They'll take Verlander's rebound as the consolation in a 4-0 loss. Cleveland moved back within 7 1/2 games of the Tigers' American League Central lead with four weeks to go, but no games remaining against Detroit. Verlander moved back to his top form.
"He had that determined look on his face," manager Jim Leyland said. "You couldn't pitch any better. He shut them out for seven innings. You can't ask for any more than that."
Leyland isn't saying the old Verlander is back, and neither is Verlander, but it was recognizable.
Verlander felt it in the fourth inning on his way to striking out Asdrubal Cabrera. After a 35-pitch opening inning, he was trying to pick up some quick outs and save his pitch count, slowing down his delivery, and he was dealing.
He was firing his fastball at 95, but it was the mechanics that sparked him more than the results.
"It was on one pitch, and it was like, 'Ah, that felt good. Let me keep doing that, or try to do that, be consistent with it,'" Verlander said. "It had a really good effect."
His catcher, Alex Avila, saw it the next time through the order. The fastball was picking up, but it was the delivery that stood out.
"Not so much the velocity," Avila said, "just the way he looked from the start of his leg kick to the follow-through once he released the ball. I mean, I've seen him a lot from that angle, and it just looked fluid to me. It looked like a natural motion for him."
He told Verlander about it after the inning.
"It just looked like you," Verlander said Avila told him.
Verlander could sense it as well.
"I feel like the last couple innings in particular was probably the closest I've felt to being right," Verlander said.
By the time Verlander escaped a seventh-inning jam, stranding Michael Brantley on third, fans could see what he meant. It was obvious. Like the Verlander of the past two years, he saved his best fastball for last.
After missing with back-to-back 97-mph fastballs, he challenged Jason Kubel with high heat for three consecutive pitches, each one harder than the last, until Kubel swung and missed at a 99-mph offering on Verlander's 115th pitch.
Once Mike Aviles grounded out on Verlander's 116th and final delivery, the sellout crowd of 41,557 at Comerica Park gave Verlander a standing ovation on his way to the dugout.
"I've been very pleased with the way the fans have my back," Verlander said. "The fans here in the ballpark and the fans around town have been fantastic knowing that I've been dealing and working my butt off. They've shown their support every day I've come out to pitch, and they cheer like they always have."
They could give him an ovation. They couldn't give him a run. Neither could the offense behind him. Though the Tigers put up 11 hits, three of them off closer Chris Perez once Aviles' ninth-inning grand slam put Cleveland ahead, they couldn't push across a run.
The Tigers were shut out on 11 hits for the first time since July 17, 1964, and just the second time since 1916.
"When we had our chance, we didn't get that golden hit today," Leyland said. "We had quite a few of them, but we just didn't get that golden one."
What began as a pitching duel between Verlander and Tribe rookie Danny Salazar became a battle of the bullpens decided by one of the rare bad days Joaquin Benoit has had this season. Aviles, who missed his chance to pull Cleveland ahead against Verlander in the seventh, made Benoit pay.
Back-to-back walks to Carlos Santana and Brantley allowed Asdrubal Cabrera to move them over on a sacrifice bunt. With first base open, Benoit intentionally walked Kubel and took his chances with Aviles, 2-for-5 against him for his career.
Aviles fouled off two mid-90s fastballs before pouncing on a hanging pitch, sending it deep to left for his ninth home run of the year.
"I think he was probably trying to go away with the cutter," Aviles said. "It just stayed on the middle, and I was able to get a good swing on it. Off the bat, I knew for sure it was a sacrifice fly, and the way [left fielder Nick] Castellanos was going back, I was hoping that it kept going out."
Once it did, it was just the fourth homer of the year off Benoit, who gave up 14 in 2012, and it handed him his first loss since Aug. 9, of last season.
"He just struggled a little bit with control," Leyland said. "That's very uncharacteristic of him. That's just one of those things. He's not going to do it all the time."
Jason Beck is a reporter for MLB.com. Read Beck's Blog and follow him on Twitter @beckjason. This story was not subject to the approval of Major League Baseball or its clubs.