Adduci makes long-awaited big league debut
Adduci makes long-awaited big league debut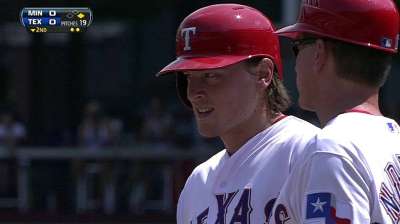 ARLINGTON -- After 10 years and 889 games in the Minors, Jim Adduci finally got his chance. The outfielder made his Major League debut Sunday against the Twins in left field, and Adduci didn't waste any time collecting his first Major League hit.
He swung on the first pitch from Kevin Correia and hit a grounder up the middle of the infield for a single with two outs in the second.
"A couple of the guys I've talked to said you only see one first pitch," Adduci said. "I was just looking in the zone and was able to put it in play and get a hit."
The outfielder finished 1-for-2 with a walk before Craig Gentry pinch-hit for Adduci in the ninth. Adduci hit sixth for the Rangers, who purchased his contract from Triple-A Round Rock on Sunday.
"That was a really special moment for me," Adduci said. "I waited a long time for that. For that moment right there, that was something I'll never forget.
Adduci, 28, has hit .298 with 16 home runs and 65 RBIs for Round Rock this season. He played well in August, batting .383 with a .465 on-base percentage. Adduci is 17-of-41 with two home runs and eight RBIs in his last 10 games.
"I just wanted to get him in there right away," Rangers manager Ron Washington said. "With [David] Murphy struggling a little bit and him swinging the bat well, I just wanted to take advantage of it and get him in early. We certainly will need what he has to offer."
Adduci has stolen 32 bases this season and can play all three positions in the outfield. He signed a Minor League deal with the Rangers last offseason after spending nine years in the Marlins and Cubs farm organizations.
"You just don't know what's going to happen in this game," Adduci said. "It could be injuries or anything like that. You just keep moving forward and give effort."
His called wife and his father, Jim, once he heard the Rangers purchased his contract. His father spent four seasons in the Majors as an outfielder and first baseman for the Cardinals, Brewers and Phillies.
"It's just the belief when you were a kid, and you just want to accomplish the goal. When you set your sights on something, sometimes there's things that don't go your way and you've got to keep pushing," Adduci said.
Adduci was born in British Columbia but attended high school in the Chicago-area, and he became just the fourth Canadian-born position player to appear for the Rangers.
Master Tesfatsion is an associate reporter for MLB.com. This story was not subject to the approval of Major League Baseball or its clubs.