McGowan sets sights on rotation spot in 2014
McGowan sets sights on rotation spot in 2014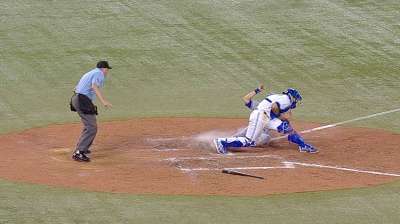 TORONTO -- Dustin McGowan returned to the Blue Jays' bullpen for Sunday's afternoon matinee with the Royals. But he's also hoping that he won't be spending a whole lot of time there.
McGowan has been used as one of the club's setup men when healthy, typically pitching in the seventh or eighth inning. But he's eyeing a return to the starting rotation next season.
"I think I'm going to try to start next year," said McGowan. "I'm going to try it, just to see how I feel. There's no harm in trying."
Although the discussion between him and the club has been preliminary, with nothing decided on yet, the 31-year-old will prepare himself to be a part of the rotation.
"I'll train in that direction," McGowan said. "It's never going to hurt to train for that. If it doesn't work out, at least it's easier to go from being a starter to reliever than the opposite. So I'd rather train that way."
If it works out that way, it cap off the Savannah, Ga., native's return. McGowan has made 60 starts in the Majors during his injury-plagued career -- including a high of 27 starts in 2007.
During that season, he took a no-hitter into the ninth against the Rockies, and ended up 12-10 with a 4.08 ERA, 1.22 WHIP, and 144 strikeouts over 169 2/3 innings.
Whether McGowan enters 2014 as a starter or not, the right-hander is just happy to be healthy again after a month-long stint on the disabled list with a right oblique injury.
"I feel real good about [entering the offseason fully healthy]," said McGowan. "I think it's important just to finish this year strong and healthy, and have a good training offseason, and come back in the best shape I can be in."
Evan Peaslee is an associate reporter for MLB.com. This story was not subject to the approval of Major League Baseball or its clubs.