Shoppach gets call to add catching depth for Tribe
Shoppach gets call to add catching depth for Tribe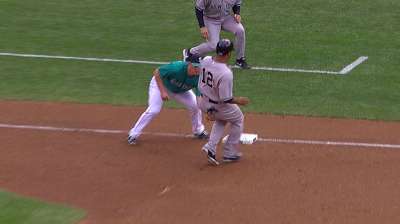 DETROIT -- When Tigers designated hitter Victor Martinez heard Kelly Shoppach, his former teammate, signed a Minor League contract with the Indians on Friday, his eyes lit up and he had a wide smile on his face.
Shoppach was promoted to the Majors when rosters expanded Sunday and will be the third catcher for the Tribe. His role gives the team more flexibility to pinch-run for Yan Gomes or Carlos Santana late in games.
"Don't get fooled, though, I think he can do better than a third catcher," Martinez said. "He's got a lot of pop and he can really drive the ball. He can help them down the road."
However, anything Shoppach provides with his bat is just an added bonus. The Indians are bringing him back for his abilities behind the plate.
"If we get into the eighth or ninth, the last thing you want to do is bring in a catcher without any experience to catch maybe [closer Chris] Perez with the game on the line," manager Terry Francona said. "That's not fair to a young catcher. So Shoppach is a veteran guy that certainly can handle that.
"He can still do it. We wouldn't have gone and got him if we didn't think he could."
Shoppach returns to the Indians after a four-year stint with the club from 2006-09. He hit 21 home runs in '08, but hasn't hit more than 12 in a season since, though he's had limited playing time.
Shoppach hit .196 with three home runs and nine RBIs in 35 games with the Mariners this season before he was released on June 20. He later signed with the Nationals and Pirates, but wasn't promoted to the Majors with either club.
"He's a really smart guy behind the plate," Martinez said. "He's going to help them out a lot."
Bobby Nightengale is an associate reporter for MLB.com. This story was not subject to the approval of Major League Baseball or its clubs.