Red Sox hold off White Sox after quick start
Red Sox hold off White Sox after quick start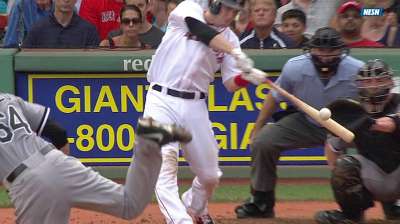 BOSTON -- For nearly two weeks, starting pitching had carried the Red Sox. So perhaps it's only fitting that when Felix Doubront faltered mightily on Sunday afternoon, his teammates picked him up en route to a 7-6 victory over the White Sox.
That's what happens on winning teams.
Manager John Farrell's team has now won nine out of 12 after sweeping Chicago in the three-game series to move to 82-56 on the season and open a 5 1/2 game lead in the American League East over the Tampa Bay Rays, who have lost four straight.
"It was a great win, great job for the bullpen," said Doubront. "For myself, I'll just move forward. It was just one of those games. Like I said, the bullpen did a great job to back me up and win the game."
Boston's streak of allowing three runs or fewer in 11 straight games ended in this one.
But the offense scored seven runs over the first four innings and the bullpen did a solid job in 4 1/3 innings following Doubront's exit.
That proved to be just enough for a hard-fought win.
Then again, the way Koji Uehara has been performing in the ninth inning, a one-run lead is all but a sure thing these days.
Uehara hasn't allowed so much as a baserunner in his last five save situations, the first Boston closer to do that in five straight since Jonathan Papelbon six seasons ago.
"The one thing he's probably improved at is just the consistency of command," said Farrell. "And that goes to the fewer number of pitches inside an inning that he throws. You kind of marvel at what he's doing at this stretch of time."
To say Uehara has been dominant over the last couple of months would be an understatement. Since July 2, Uehara has converted 12 of 13 save opportunities without allowing a run and holding opponents to a .090 batting average.
The only person who doesn't seem amazed by what Uehara is doing is, well, Uehara.
"It isn't that the confidence is growing or anything like that," said Uehara. "I know that if I do my job, if I make my pitches, I'll get the hitters out."
Early in the game, it seemed like the Red Sox might get by without Uehara in this one.
But staked to a 5-0 lead, everything fell apart for Doubront in the fourth.
The lefty would throw 40 pitches in the inning, giving up four runs and recording just two outs before he was removed by Farrell. The White Sox got their runs on a sacrifice fly by Jeff Keppinger, an RBI double by Dayan Viciedo and a two-run single by Connor Gillaspie. Brandon Workman got Boston out of the mess by striking out Leury Garcia.
"Inability to finish off some hitters," Farrell said of Doubront. "It's not that he created issues with base on balls. He gets north of 40 pitches in an inning and to me that's when you get into some danger zone from a health standpoint. With a one-run lead, the way it was, [I] felt like we had to go to the bullpen to preserve it."
After a long inning in the field, the Red Sox were eager to get to the plate again and it showed.
Jacoby Ellsbury led off with a walk and stole second. Dustin Pedroia hit a liner to third that was nearly caught by Gillaspie. However, as the third baseman lunged to the bag in an attempt to double off Ellsbury, the ball appeared to squirt loose. That was the ruling by third-base umpire Paul Nauert, and the play got even worse for the White Sox when Gillaspie's throw to first was wild. Ellsbury scored and Pedroia made it to second.
White Sox manager Robin Ventura was ejected for arguing the play.
"He felt he didn't control it all the way and I felt that he did and he was going for the second out," Ventura said. "Obviously, we didn't agree."
Up stepped David Ortiz, and he ripped an RBI single to center to make it 7-4.
Ortiz has busted out of an 0-for-23 slump by reaching in eight of his last 11 plate appearances.
"The 0-for-23 slump, I just got you guys used to some good stuff. I stopped hitting for about a week and everybody started going crazy," Ortiz said. "Start worrying about me when I go to the plate without a baseball bat. It was just one situation you walk into and it happens, and it happens to everybody."
The White Sox got one back against winning pitcher Workman in the fifth on an RBI by Paul Konerko.
Tyler Flowers inched Chicago to within a run in the eighth when he ripped a solo homer to left against Craig Breslow.
The Red Sox got the bats going early against White Sox starter Andre Rienzo. Ellsbury clubbed a two-out single in the second. Shane Victorino and Pedroia followed with walks. That set up Ortiz for a two-run double to right, staking Doubront to a 4-0 lead.
Stephen Drew made it a five-run cushion when he crushed a solo homer to center in the third.
Though it was closer than they would have preferred, the Red Sox nonetheless started September on a strong note.
"This is the last part of the season and you want to be sure you win some games so we're in [the postseason]," said Ortiz. "And who better than us knows that? We'll try to keep on playing well."
Ian Browne is a reporter for MLB.com. Read his blog, Brownie Points, and follow him on Twitter @IanMBrowne. This story was not subject to the approval of Major League Baseball or its clubs.