Kottaras enjoying trip home to Toronto
Kottaras enjoying trip home to Toronto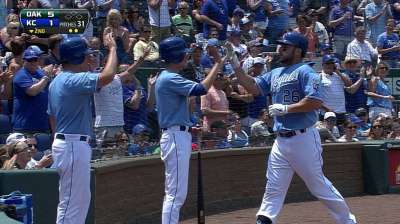 TORONTO -- Getting the opportunity to play at Rogers Centre is something George Kottaras looks forward to every season.
The catcher was born and went to high school just outside of Toronto, so his annual visits to the city give him a chance to catch up with his family. This weekend series in Toronto was no exception.
Kottaras had his parents, grandparents, aunts, uncles, and cousins -- pretty much his entire family, he said -- in attendance for the three-game set. After Saturday afternoon's game, a 4-2 Blue Jays win, Kottaras took advantage of having his family close by.
"I went home and my mom cooked, we had a bunch of people over, and it was a late gathering," said Kottaras. "It was pretty cool.
"It's something to look forward to. I'm trying to do as much as I can to spend some time with them. First things first, though, I'm coming here for work."
Work over the first two games of the series consisted of pinch-hitting duties for Kottaras. The 30-year-old entered each contest late, and recorded a single in Saturday's game. It's a difficult role for any player, as one doesn't know when his name is going to be called and it usually means facing some of the opposition's top relief arms.
At Rogers Centre, specifically, the batting cages are situated on the other end of the stadium, so Kottaras said it's tough to get swings in during the game. There is a tee and net outside of the visitors' clubhouse, so he can take some hacks. But he said the main goal is just getting himself mentally prepared.
"At home, we have our cage. At some places, as a visiting team, there is a cage on our side, too, so you can definitely take some swings," said Kottaras. "You can't really work on things, it's just kind of get loose and go.
"When I'm coming in, it's usually to face their closer or setup guy. So you're not in a good spot to start off with."
Kottaras hasn't seen much playing time -- he has appeared in 41 games this season and accumulated 114 plate appearances -- but he's still found ways to be a helpful contributor on the offensive end.
The six-year veteran sports an impressive .360 on-base percentage and has a .325 mark for his career.
"He gives you professional at-bats," said manager Ned Yost. "You know he's not going to go out there and swing at balls outside of the strike zone. He's a guy you can count on to get on base."
Kottaras said not chasing pitches is a big part of what he tries to do and, to his credit, he is swinging at fewer pitches outside of the strike zone than ever before, according to Fangraphs.com. In fact, he is swinging at fewer pitches altogether, and he said that's because he's not going to take a cut on a pitch he knows he can't do damage with -- even if it's called for a strike.
"[Getting on base is] important to me, and it's something I have gotten better with over time," said Kottaras. "[It's about] understanding myself, and what I can and can't do.
"If I come in to pinch-hit, I know [the pitcher] is going to try to use my aggressiveness against me, and try to make me swing at bad pitches. So I have become a little bit more patient."
Chris Toman is a contributor to MLB.com. This story was not subject to the approval of Major League Baseball or its clubs.