Castellanos savors callup, coming full circle on Monday
Castellanos savors callup, coming full circle on Monday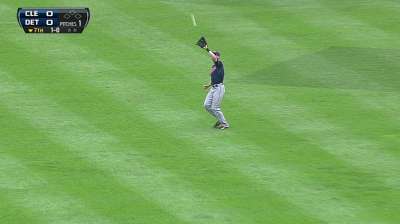 DETROIT -- The last time the Tigers went to Fenway Park, in the thick of a playoff race last summer, Nick Castellanos was there. He was playing for Double-A Erie, and he took the team's off-day on the road to drive down from New Hampshire with Avisail Garcia. They wanted to soak in the atmosphere for a day before getting back to their climb, and they were as much fans as baseball players.
As he learned Saturday night in Toledo, Ohio, that he got the big league call and suddenly had to pack for a three-city trip with a much stricter dress code than a Triple-A bus, it hit him. He's heading back to Fenway Park on Monday, this time as a Major Leaguer.
"It's going to feel that much better going there for real this time," he said.
First was Sunday's series finale against the Indians in Detroit, where two Triple-A teammates -- infielder Danny Worth and reliever Evan Reed -- both joined him as September callups. Castellanos entered as a pinch-hitter in the seventh and flied out, then remained in the game in left field. He batted again in the ninth inning of Detroit's 4-0 loss, grounding out to shortstop.
Luke Putkonen will join the team Monday in Boston, manager Jim Leyland announced. Catcher Bryan Holaday, and relievers Jeremy Bonderman and Jose Alvarez will join the team on Tuesday.
Castellanos might still be a spectator to some degree. The Tigers have their mix in left field, and while Castellanos will likely get some time there, he's not taking over. But as team officials have said all along, they don't add September callups just to take up space. When they discussed whether to call up their top prospect, they did it with the intent to use him.
"We think he's earned a spot to come up with us at this point," team president/general manager Dave Dombrowski said. "He's done a nice job for us. We look at him as a very valuable person within our organization for years to come, and we think being here in September, not only will he help us, but it'll be good experience for him."
Castellanos, for his part, is ready for whatever they have for him.
"My role's going to be whatever [Leyland] needs me for, whenever he needs me," Castellanos said. "Whether it's go in against a lefty late in a game, whether it's a pinch-hit, whether it's a pinch-run, whether it's to pitch, it doesn't matter. I'm here to do whatever I can to try to help this team win. Coming in late in games, that's something I'm going to have to try to learn how to do, because I've never really done that before.
"I'm sure that I'll talk to these guys. We've got awesome guys on the team that will let me know things that I need to do."
That learning process will give him a head start on next season, when he likely has a chance to earn a regular role out of camp. His bat, the one that hit .276 with 18 home runs and 76 RBIs for Toledo, will give the Tigers some punch off the bench.
Inside, however, there's still going to be that kid soaking everything in. Even in the quiet of a Sunday morning clubhouse, Castellanos' excitement was evident.
"We're playing for something," Castellanos said. "I'm going to take everything in, I'm going to learn as much as I can, and I'm going to enjoy the ride, because it's going to be a lot of fun."
Jason Beck is a reporter for MLB.com. Read Beck's Blog and follow him on Twitter @beckjason. This story was not subject to the approval of Major League Baseball or its clubs.