Tigers shut down Dotel after setback in Triple-A
Tigers shut down Dotel after setback in Triple-A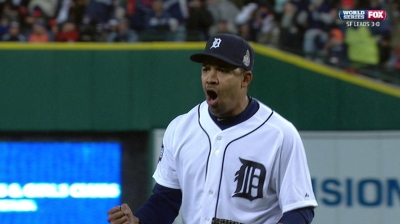 DETROIT -- Octavio Dotel has been part of the past two World Series with the Tigers and Cardinals. It does not appear he'll be back this October, whether the Tigers get there or not.
"Right now, he's just not feeling 100 percent, so we're basically shutting him down," team president/general manager Dave Dombrowski said. "It's a situation where we don't plan on him rejoining us. His arm's bothering him. He's just not 100 percent."
The team recalled Dotel from his Minor League rehab assignment, but will not activate him from the disabled list. The forearm tightness that forced him out of Friday's game at Triple-A Toledo is a season-ending injury, if not worse.
"What happened was when he went up to Toledo, he tried to get a little more [on his fastball]," manager Jim Leyland said. "He did get a little more, but the forearm just tightened right up and he just didn't feel like he was ready to compete at this level."
Dotel returned to Detroit this weekend for an examination from team doctors and he could seek an additional opinion from a specialist.
Dotel will be a 40-year-old free agent in November, so any injury that requires a lengthy rehab could be career threatening. Neither Leyland nor Dombrowski know Dotel's future plans.
He has pitched 951 innings over 758 Major League games for a record 13 different teams in his 15-year career.
"Dotel's had a great career, won a world championship," Leyland said. "I wish he was on the club and I wish everything was going right. And who knows, he might be contemplating trying to pitch next year. I'm not saying this is career ending. I'm just saying, right now, he's not going to be available for the Tigers."
Jason Beck is a reporter for MLB.com. Read Beck's Blog and follow him on Twitter @beckjason. This story was not subject to the approval of Major League Baseball or its clubs.