Gray matter: A's rookie wins duel over Rays
Gray matter: A's rookie wins duel over Rays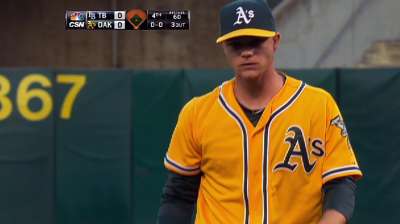 OAKLAND -- Stephen Vogt went hitless in 27 plate appearances with the Rays in 2012. He walked twice but never reached base by placing the ball on the ground in fair territory.
Batting ninth for the A's in his first game against his former team, Vogt crushed a triple off the out-of-town scoreboard in right field in his second at-bat. He then crossed the plate on Coco Crisp's single up the middle, and the A's pulled out a 2-1 win against the Rays on Saturday night at O.co Coliseum. Crisp provided a needed insurance run in the eighth inning when he belted his 15th homer of the season.
"It's kind of nice to get a hit in front of them to show them that I could do it," Vogt said. "But at the end of the day, it's a win for the A's and obviously it's nice to beat another playoff team. It was a playoff atmosphere tonight, it was fun."
The runs backed a stellar outing by rookie Sonny Gray, who tossed 6 2/3 scoreless innings to extend the A's lead to 1 1/2 games over Tampa Bay for the first Wild Card spot in the American League and stay two games back of the Rangers in the AL West.
Gray (2-2) stymied the Rays on five hits with seven strikeouts and a walk to bounce back from his last outing, when he gave up six runs in 3 1/3 innings at Baltimore. Both of his wins have come at home, where he's allowed just two earned runs over 21 2/3 innings.
"The fans are great here," Gray said. "I love pitching at home. I think in the fourth inning I had two men on and you could tell that everyone really gets behind you and helps you get that last hitter. It's nice to get that little kick."
The fourth was one of three straight innings in which Gray allowed a runner to reach scoring position, but the Rays never crossed the plate. Saturday was the second outing of his career in which he's pitched more than six innings while allowing no runs.
"He's wise beyond his years as far as ability and composure," Vogt said. "He doesn't get rattled by anything. He doesn't get rattled in the moment. You take your average 23-year-old and have a start like he did in Baltimore and then bounce back like tonight, that shows his maturity and that shows his composure and his ability to make adjustments."
Along with Gray's mental makeup, Vogt credited the hurler for his ability to locate his fastball for strikes while using his curveball -- vicious when effective -- as an out pitch.
Gray struck out five of the first six batters he faced and was matched for much of the game by Rays starter Alex Cobb, who struck out seven and retired 12 straight from the first through the fourth in his complete-game loss.
"I had a feeling pretty early on that both guys were going to be pitching well and runs were going to be tough to come by, and that was the case," A's manager Bob Melvin said. "We got just enough."
Crisp's home run in the eighth was his fifth in the month of August. He also recorded his 17th stolen base of the season in the first inning for just one of two A's runners to reach scoring position on the night. The swipe snapped a career-high-tying streak of 25 games without a stolen base.
"He's like a fine bottle of wine," Rays manager Joe Maddon said. "He keeps getting better."
Gray exited in the seventh to a roaring sellout crowd after allowing a two-out single to Jose Lobaton. Reliever Sean Doolittle threw a wild pitch and walked the first batter he faced, but then induced a flyout to center field to escape the threat.
Doolittle had allowed seven runs in his past six games.
"We've been a little spotty down there at times in the bullpen, for a bullpen where the expectations are to be perfect all the time," Melvin said. "You have to be consistent with those guys and you have to have some faith in them and belief in them when times aren't great. ... It wasn't a tough call for me."
Dan Otero came into the game with two outs in the eighth and a runner on first to strike out Evan Longoria to end the inning, and Grant Balfour allowed a run in the the ninth as he secured his 35th save of the season.
With the win, the A's finished August with a 14-13 record to extend their streak of consecutive winning months to nine dating back to last June -- the fourth longest such streak in Oakland history.
"Today's a good win. We definitely don't want to be in a losing streak," Crisp said. "But tomorrow's a fresh day and today doesn't matter. We're going to enjoy this right now as much as we possibly can, but tomorrow this win doesn't matter. We'll go out there to try and win another ballgame."
Jeff Kirshman is an associate reporter for MLB.com. This story was not subject to the approval of Major League Baseball or its clubs.