Giants come back, but can't hold off D-backs in ninth
Giants come back, but can't hold off D-backs in ninth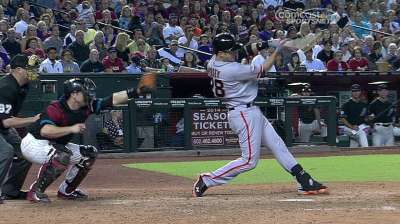 PHOENIX -- The Giants' transition from August to September paralled their ongoing development from miserable to respectable.
The results, however, didn't change Saturday night.
San Francisco completed the month with a 4-3 loss to the Arizona Diamondbacks, who received an RBI single from Eric Chavez to shatter a ninth-inning tie.
The Giants posted a 13-16 record in August, representing a considerable improvement over their 10-17 June mark and their 8-17 July finish. They've sharpened their defense, as Saturday's effort reflected, and they've welcomed the return of Angel Pagan and Ryan Vogelsong from injuries.
Pagan wielded his influence for the second time in as many days since being activated from the disabled list with a big seventh inning. He singled, stole a base and scored in the top of the inning before making a run-saving shoestring catch in the bottom half.
Vogelsong surrendered three runs in six innings and received no decision, though he contributed by leaving the bases loaded in the third and sixth innings. Vogelsong has limited opponents to three runs or fewer in his last six outings, recording a 2.52 ERA in that stretch.
This wasn't enough to subdue the D-backs in the August finale.
With the score deadlocked at 3, Willie Bloomquist singled off Sandy Rosario (3-2) to open Arizona's ninth. Adam Eaton's sacrifice bunt advanced Bloomquist to second base and set up an intentional walk to Paul Goldschmidt. Up came Chavez, who ripped Rosario's first-pitch fastball into the left-center-field gap to score Bloomquist.
Walking Goldschmidt, one of the National League's most formidable hitters, was a given.
"They executed, and we're in a tough spot," Giants manager Bruce Bochy said. "We walk [Goldschmidt] to see if we can get a double-play ball, and [Rosario] got that ball over too much of the plate."
Chavez wasn't at all insulted by the Giants' bypassing Goldschmidt to face him.
"I mean, you have to walk him there," Chavez said. "They've been burned before by him, he's hit some big hits late in games against them, so I pretty much knew what Boch was going to do before he did it."
Bochy could have summoned veteran right-hander Santiago Casilla instead of sticking with Rosario. But Bochy pointed out that Casilla had been used in three of the previous four days. Moreover, the rookie Rosario needed the experience.
"He's one of our setup guys," Bochy said.
But inserting Casilla would have provided a dose of symmetry. Chavez's last walk-off hit was an 11th-inning home run for Oakland against Boston on June 4, 2007. The winning pitcher that evening was ... Santiago Casilla.
Ninth-inning dramatics appeared unlikely through much of this game. Vogelsong yielded all of his runs in the fourth. That ended the right-hander's streak of 15 shutout innings, dating back to his Aug. 20 start against Boston.
Arizona's uprising began with Martin Prado's double, followed by singles from Aaron Hill and Miguel Montero -- all in a span of five pitches.
"They got super-aggressive on me," Vogelsong said. "Some of the pitches weren't that bad. They just came out swinging. I was trying to throw balls off the plate and they were still getting hits."
The Giants pulled even in the seventh. Gregor Blanco christened the inning with his first homer since June 14. Pagan lined a one-out single, stole second base, advanced to third on a wild pitch and scored on Marco Scutaro's triple. That finished D-backs starter Trevor Cahill. Left-hander Eury De La Rosa struck out Brandon Belt before Arizona manager Kirk Gibson summoned right-hander Josh Collmenter to face Buster Posey. It was the percentage move, since Posey bats right-handed. But given Posey's .714 career average (5-for-7) off Collmenter, nothing might have helped the D-backs reliever. Posey singled to right on a high 0-2 fastball, scoring Scutaro with the tying run.
Posey indicated that he was aware of his success off Collmenter but didn't know specifics. As for his effective swing on a pitch that would have been called ball one, Posey said, "You're in battle mode with two strikes [on you]."
Without that rally, the Giants would have had little to savor besides their defense. Besides Pagan's catch, shortstop Brandon Crawford filled his usual quota of sure-handed plays and threw home in the sixth inning on Cahill's grounder to seek a forceout, which Posey recorded with a short-hop grab of Crawford's peg. Third baseman Pablo Sandoval made a slick pickup-and-throw on Cahill's topped grounder in the third.
Chris Haft is a reporter for MLB.com. This story was not subject to the approval of Major League Baseball or its clubs.