B.J., Braves walk off in 11th, win sixth straight
B.J., Braves walk off in 11th, win sixth straight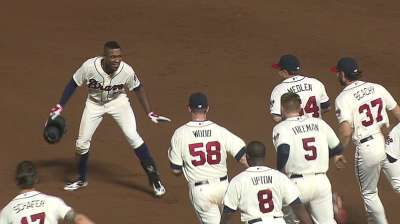 ATLANTA -- As B.J. Upton's struggles have extended throughout this season, the Braves have remained patient with the hope that this oft-streaky outfielder would eventually live up to his reputation of being a player who has a knack for getting hot at the right time.
Time will tell how productive Upton will be during the remainder of this season. But the veteran outfielder will enter September with the momentum created by a four-hit performance that was capped by his walk-off single in the 11th inning of Saturday night's 5-4 win over the Marlins.
"He's had tough months, but nobody remembers what you did in April, May and June," Braves manager Fredi Gonzalez said. "If everything goes well and we go where we want to go and he continues swinging the bat, that's what he's going to be remembered by. So those are good things."
After they stranded two runners in both the ninth and 10th innings, Upton was not necessarily the guy the Braves would have chosen to come to the plate with two on and two outs in the 11th inning. He entered the plate appearance hitting .091 (7-for-77) with runners in scoring position and .023 (1-for-41) with two outs and runners in scoring position.
But none of that mattered when Upton laced right-handed reliever Ryan Webb's slider to right-center field. The sharp single scored pinch-runner Paul Janish from second base and prompted the second walk-off celebration the Braves have staged this week.
Janish replaced Chris Johnson, who capped his own four-hit performance with a single that sparked the decisive inning and raised his batting average to a National League-best .331.
"We've got a very good ballclub," Upton said. "It's not going to be one guy every night. It just so happened tonight was my night."
Along with delivering the game-winner, Upton also produced a game-tying sixth inning home run that helped the Braves claim their sixth consecutive victory and increase their division lead over the Nationals to 15 games. They will enter September with their magic number to clinch the National League East at 13.
"I'm just going to stay the course and trying not to do too much," Upton said. "You just keep at it and keep grinding. My teammates have been behind me all year. They haven't given up on me. That's a big part of it. I've had their support all year."
After striking out in Saturday's first two at-bats, Upton found himself in the midst of a 4-for-42 skid that extended back to Aug. 7, when he notched his only other four-hit game of the season. But he got himself back on track in the sixth inning when he erased a 3-1 deficit with a two-run home run off Miami starting pitcher Jacob Turner.
Upton's first home run since June 15 marked the first of four consecutive hits he recorded to exit this game with a .195 batting average. Instead of focusing on that number, the Braves are simply looking forward to the possibility that this game marks the start of another of his late-season surges.
Upton grabbed the attention of the baseball world when he hit seven home runs while playing in his first postseason in 2008. The franchise-record five-year contract he gained from the Braves in November was a product of the 19 home runs he hit in his last 57 games of the 2012 season.
"I've been working hard all year and I'm finally starting to see some consistent results," Upton said. "The season is not over. I've just got to keep playing and working hard and stick with what I'm doing."
Upton's contributions benefited Mike Minor, who was in line for a loss after surrendering opposite-field home runs to his nemesis, Justin Ruggiano, and Giancarlo Stanton through the first three innings. Ruggiano has hit .412 (7-for-17) with two home runs in his career against Minor.
Along with hitting a two-run home run in the first inning, Ruggiano began the seventh inning with a single and scored on Logan Morrison's one-out single, which allowed the Marlins to regain the lead that was lost when Upton homered during the previous half-inning.
The lead proved to be short-lived as former Braves left-handed reliever Mike Dunn surrendered a two-out, seventh-inning double to Johnson and Brian McCann's game-tying single.
McCann's single erased the possibility of Minor being saddled with a loss on a night in which he allowed as many home runs (two) as he had in his previous 10 starts combined.
"For us, four runs is like 25 runs for some teams," Marlins manager Mike Redmond said. "You've got to try to find a way to win that ballgame. We didn't."
The Braves wasted some opportunities while stranding 15 runners. They left the bases loaded twice and put two on with none out before Dan Uggla grounded into a double play to end the ninth inning.
But with their rock-solid bullpen allowing just two hits over four scoreless innings, and Upton picking an opportune time to halt his most recent funk, the Braves took one more step toward clinching their first division title since 2005.
"We have guys that step up," Upton said. "That is what this team is about. It's never going to be about one guy. When we need somebody to step up, it just seems like that is what happens."
Mark Bowman is a reporter for MLB.com. This story was not subject to the approval of Major League Baseball or its clubs.