Phillips backs former Rockie as Reds roll to win
Phillips backs former Rockie as Reds roll to win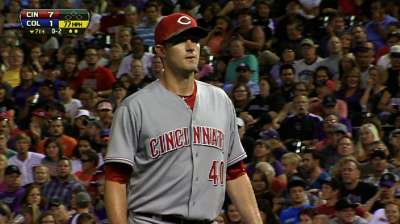 DENVER -- A day after watching Todd Helton single-handedly account for six runs, the Reds put a total team effort together Saturday night, with lights-out pitching from a former Rockie and explosive hitting that was as timely as a Swiss watch, to take an 8-3 win in Colorado and even the series.
The win pulled the Reds within 2 1/2 games of the Cardinals, who with a loss to the Pirates allowed Pittsburgh to take sole possession of first place in the National League Central.
Making his first appearance against the team that made him a first-round pick in the 2006 First-Year Player Draft, Greg Reynolds had one of the best starts in his 30-game Major League career.
"I feel like I'm on a good roll," Reynolds said, carrying over the momentum from his 12-3, 2.42 stretch at Triple-A Louisville. "All these games are big for us right now. To go out there and eat up some innings and give our bullpen a little bit of a rest was big. I tried not to let the whole 'coming back to Coors Field' thing factor in."
A day after the Rockies touched the Reds for nine runs on 19 hits, Reynolds silenced the Colorado lumber, pitching seven innings of one-run ball against his old club before finally yielding another two runs in the eighth.
"I hadn't done particularly well here," Reynolds said. "I learned what not to do for sure. But I was definitely more comfortable coming out here now. I feel like I'm a better pitcher now than I was before, and I think that showed today."
It was Reynolds' first big league win since July 2, 2011. He had excellent command, walking none in eight full innings and yielding seven hits while striking out five. He used all his pitches, relying on his fastball throughout, then using a cutter to set up his curve for a strikeout pitch later in the game.
"He did a hell of a job," Rockies manager Walt Weiss said. "He threw mostly fastballs really, and he two-seamed it and he cut it and he commanded it. But he did it almost exclusively with a couple different fastballs."
Cincinnati jumped to an early lead in the first frame, as Shin-Soo Choo drew a four-pitch walk and Brandon Phillips matched his career high with his 98th RBI on a triple into the right-center gap. Phillips scored on Joey Votto's grounder to short later that inning, sparking a 6-for-9 night for the Reds' one-two tandem.
"You always want to score first, especially in this ballpark," Reds manager Dusty Baker said. "And keep scoring, because you never know when they're going to come back. That was an outstanding performance by Brandon and an outstanding performance by Reynolds. It was his first win as a Red."
Phillips extended the Reds' lead to 3-0 in his next at-bat, driving a 93-mph fastball from Juan Nicasio into the right-center bullpen in the third. The round-tripper gave Phillips a career-best 99 RBIs.
"It felt good to beat a career high," Phillips said. "I'm just glad we got the win for the team, because we really need to get some more Ws."
Following a game-long pattern of scoring in innings when Phillips stepped to the plate, Cincinnati added three more in the fifth as Choo singled and Phillips sent him to third on a double to left. Nicasio struck out Votto, then intentionally walked Jay Bruce to bring up Ryan Ludwick.
The Rockies handed the ball to Wilton Lopez. Before throwing a pitch to Ludwick, Lopez balked in Choo. Ludwick then drove Lopez's second offering into left to plate Phillips and Bruce, notching his third hit of the night.
"I told [Ludwick] and everybody it was going to be about 100 at-bats before he started feeling pretty good, and he had about 50 down there, and 50 here, so he's right on time," Baker said.
Reynolds helped himself with his glove early on, spearing a hard grounder from Corey Dickerson in the third to start a rally-killing double play.
"It was probably one of the keys of the game," Baker said. "That ball was hit hard. That would have been first and third, and I've seen first-and-third be like a merry-go-round in this ballpark. That was a big, big play in the game."
Colorado finally touched Reynolds for a run in the fifth, with Charlie Blackmon singling to center and pinch-hitter Jordan Pacheco doubling him home.
The Reds got the run back when Phillips batted again in the sixth. Reynolds drove a one-out double to left and went to third on Choo's second single of the night. Though Phillips missed out in his two bids to complete only the sixth cycle in Reds history, the Reds continued to score in innings he batted, with Votto plating Reynolds in the sixth and Choo becoming the third Red with three hits when he doubled to left in the eighth to score Zack Cozart and make it 8-1.
"It would have been nice to get [the cycle] done, but today was all about Reynolds," Phillips said. "I'm happy for him to go eight innings like that and pitch lights out. Any time you keep the ball down, positive things happen. I'm proud of him."
The only other damage off Reynolds came with Dickerson's two-run home run in the eighth. Reynolds could taste the complete game, but with his pitch count at 104, he settled for a career-high eight innings.
"I really wanted to finish it out," Reynolds acknowledged. "But it was in my hands, and I made a mistake, and they capitalized on it."
Reynolds gave the Reds exactly what they needed in advance of Sunday's rubber match.
"He had some pretty good hitters off-balance -- Tulo and Helton, [Michael] Cuddyer," Baker said. "That was a huge performance by him."
Owen Perkins is a contributor to MLB.com. This story was not subject to the approval of Major League Baseball or its clubs.