Moore's return to determine rotation order
Moore's return to determine rotation order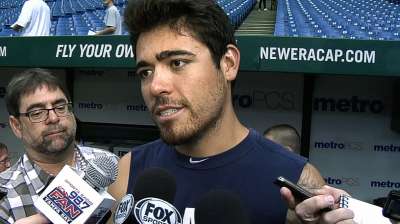 OAKLAND -- Rays manager Joe Maddon remained mysterious regarding Sunday's starter, saying he will name him after Saturday's game.
"We have to decide when Matt Moore will go, whether it's the second or third [of September], and then fill in from there," Maddon said. "It will all fall into place after tonight's game."
Moore, who is on the disabled list with left elbow soreness, threw four innings in a rehab start on Thursday, making Tuesday a distinct possibility, with David Price slotted into Wednesday's start.
"It all depends on what happens tonight," said Maddon, who would not reveal whether Sunday's starter is already with the team.
Rick Eymer is a contributor to MLB.com. This story was not subject to the approval of Major League Baseball or its clubs.