Henderson blows rare save on Lucroy's big night
Henderson blows rare save on Lucroy's big night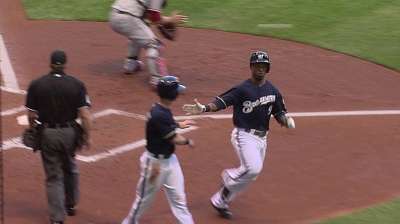 MILWAUKEE -- Although the Brewers have faltered this season, they entered Saturday as the only team in the Majors without a loss when leading after eight innings.
Angels pinch-hitter Hank Conger changed that, while simultaneously ending Brewers closer Jim Henderson's streak of consecutive appearances with a save, with a two-out, two-run home run off the right-field foul pole in the ninth inning, lifting the Angels to a stunning 6-5 win at Miller Park.
The loss dropped the Brewers' record when leading after eight to 50-1, and it ended Henderson's franchise record of consecutive appearances with a save at 12. It was Henderson's fourth blown save of the year and his first since June 30. The previous three all came in the eighth inning.
"It was a bad game to lose," Brewers manager Ron Roenicke said. "We played well, battled back and got the lead. Henderson has been great all year. We know he's not going to be perfect and there's going to be a time he gives up some runs. It's unfortunate when we battle back like that; it's just hard to lose those games."
Conger's seventh home run -- and first career pinch-hit homer -- ended a back-and-forth contest and spoiled what would have been a big day for Brewers catcher Jonathan Lucroy. Lucroy finished 3-for-5 with four RBIs, including what seemed to be the game-winning two-run single in the seventh inning.
After Henderson struck out Grant Green and got Chris Iannetta to ground out, Josh Hamilton stepped to the plate to pinch-hit. Hamilton looked at three straight Henderson fastballs out of the zone, before missing on a big 3-0 cut. The next pitch -- another fastball -- he lined toward right field, but it looked as though it might stay up for Caleb Gindl to catch.
But Gindl -- playing deep in a no-doubles defense -- dove for the sinking line drive and it hit beneath his glove, giving Hamilton a double.
"It's one of those situations I probably shouldn't have dove for it," Gindl said. "But I was going all out, and I thought I could make a play on it, thought I could catch it, so I went for it. I thought I could catch it, and I was three inches short."
The switch-hitting Conger then stepped up to pinch-hit, turned on a 2-1 fastball and knocked it off the right-field foul pole.
"Really, I was just trying to hit it as hard as I can, I'll be honest with you," Conger said. "Let's just say, I was swinging very hard and just keep it at that."
Henderson said he was trying to go in on Conger, but he left a fastball over the middle of the plate.
"He was just timing it up there, saw three of them and timed up the third one," Henderson said. "It was a little bit too middle, for sure."
Conger's drive was the first Angels' pinch-hit homer this season. Angels closer Ernesto Frieri stranded Scooter Gennett at first base in the bottom of the ninth inning to pick up his 29th save and help the Angels win the first two games of the three-game weekend set.
The back-to-back losses leave the Brewers with a sour taste after a successful road trip that saw them take two of three games from both Cincinnati and Pittsburgh, playoff contenders. But they were shut out Friday and could not hold a late lead on Saturday at Miller Park.
Roenicke said Saturday's loss was the tougher of the two.
"Yesterday we weren't really in it, but today's game is tough," he said.
"The good thing is, we've got a day game tomorrow, so not much time to think about it. Get back out there," said Henderson.
Lucroy collected his first two RBIs with a two-run double in the first, but Brewers starter Marco Estrada gave up singles to five of the first six Angels hitters in the third inning.
Estrada, who entered Saturday with a 1.88 ERA in four starts since coming off the disabled list Aug. 7, was not hit particularly hard in the frame, but the Angels found the open areas of the field to jump ahead, 3-2.
Mike Trout drove in the first Angels run with a cue ball off the end of his bat that squibbed by first baseman Juan Francisco and was tracked down by Gennett, who had no play. Kole Calhoun followed with a run-scoring single to right field, and two batters later, Luis Jimenez grounded a ball up the middle past diving shortstop Jean Segura.
"There was a number of things that happened, but you just can't control it," Estrada said. "All you've got to kind of do is make your pitches. So many at-bats I made my pitches, and they just found the holes. That's what happens, it's part of the game."
The Brewers tied it in the third. Lucroy singled off the tip of Erick Aybar's glove, stole second, and Aramis Ramirez brought him home with a ground-ball double down the right-field line.
Iannetta put the Angels back on top, 4-3, with his seventh home run of the year in the fourth inning -- a solo shot off Estrada. It was Iannetta's first home run since June 29.
Estrada tossed seven innings, allowing four earned runs on nine hits. He walked one and struck out eight while throwing 98 pitches, 72 for strikes.
Kevin Massoth is an associate reporter for MLB.com. This story was not subject to the approval of Major League Baseball or its clubs.