Phillies deal McDonald for Minor Leaguer
Phillies deal McDonald for Minor Leaguer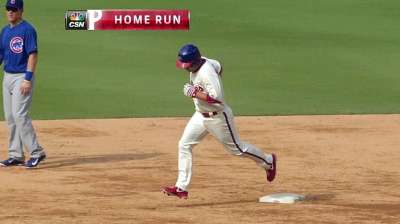 CHICAGO -- The Phillies announced after Saturday's 4-3 loss to the Cubs that infielder John McDonald has been traded to the Red Sox in exchange for right-handed pitcher Nefi Ogando.
McDonald, who has played for the Pirates, Indians, and Phillies this season, hit .174 (4-for-23) in 21 games for Philadelphia and .098 (6-for-61) in 45 games overall in 2013.
"It's exciting to go into a pennant race," said McDonald, who is a New England native. "To get to go and play for [the Red Sox], I think everyone in baseball has followed how well they've played this year."
Ogando, a 24-year-old relief pitcher who has been with Class A Advanced Salem in the Boston system, was 2-3 with a 4.09 ERA in 33 appearances (55 innings) this season.
Manny Randhawa is an associate reporter for MLB.com. Follow him on Twitter at @MannyBal9. This story was not subject to the approval of Major League Baseball or its clubs.