Reds expect light September role for Hamilton
Reds expect light September role for Hamilton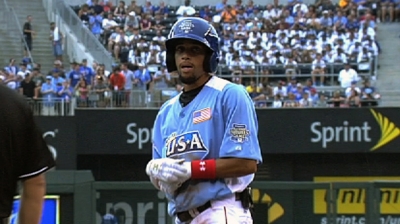 DENVER -- Anticipation continues to build around the likely callups the Reds will add when rosters expand Sunday, and Billy Hamilton, rated the club's No. 1 prospect by MLB.com, is at the center of the buzz.
As manager Dusty Baker points out, however, the combined half dozen players targeted to join the roster Sunday in Denver and Monday at home in Cincinnati are not likely to get an abundance of time in the lineup.
"Hamilton's here to help us win," Baker said of the Mississippi-born infielder-turned-outfielder who has led five leagues in steals in four Minor League seasons. "However we think he can most help the team. I was a September callup three times. I didn't play much."
Hamilton, 22, set a professional baseball record with 155 steals in 192 attempts over 132 games last season, splitting his time between Class A and Double-A. He is hitting .256 at Triple-A Louisville this season, with a league-best 75 steals in 90 attempts, 33 three more than his closest competition.
"I was impressed with the young man in Spring Training, and I followed him during the year," Baker said. "It looks like he improved. I'll use him as I see fit. He's not going to be Herb Washington. I can use him a lot of places, especially when we lack speed. One thing we lack, we lack speed. He can pinch-run for about half the guys on the team."
Washington was essentially a designated runner for the Oakland A's in 1974 and 1975. He played 105 games, scored 33 runs and stole 31 bases in 48 attempts. He never had a plate appearance, despite making it to two postseason rosters.
While Washington was a world-class college sprinter who came to the A's with a single skill in his tool bag, Hamilton is a well-rounded player who has shown he can get on base with his bat and handle both the infield and outfield with his glove.
"He's going to be Herb Washington sometimes," Baker said. "But he can play defense. I can use him as a pinch-hitter, especially to lead off an inning."
If the Reds were out of contention, Hamilton might see more action to test his big league mettle, but with the Reds in a pennant race, contenders for first in their division and holding a Wild Card spot on the last day of August, Hamilton is not about to bump a starter out of the lineup. He can certainly help the Reds, and the experience should be good for him come the 2014 season, when he will compete for a spot on the roster.
"I was in that position three times before I got to stick to the big leagues," Baker said of the nature of September callups. "I've been where he's been. The experience of being here and learning here puts you on an accelerated curve for once you get here. The hardest thing about being here is feeling like you belong. Once you get past the lights, past the lifestyle and everything -- from Mississippi to the big leagues is a long ways."
Owen Perkins is a contributor to MLB.com. This story was not subject to the approval of Major League Baseball or its clubs.