Embracing new start, Duke solid in Reds debut
Embracing new start, Duke solid in Reds debut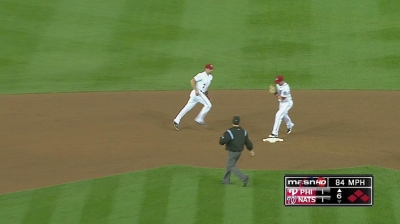 DENVER -- Left-hander Zach Duke made his Reds debut Friday night, throwing 1 2/3 innings of scoreless relief in the Reds' 9-6 loss to the Rockies. He gave up three hits and struck out two, shutting down the Rockies and cutting down an eighth-inning rally with Rockies slugger Todd Helton at the plate.
"He went a little further than I wanted him to go," manager Dusty Baker said Saturday. "He's probably not available today. We didn't want to go through our whole bullpen. That's something you don't want to happen, especially starting a series here in Colorado."
Duke came out after striking out the left-handed Helton with runners on second and third. Helton hit three-run homers against starter Bronson Arroyo and reliever Logan Ondrusek and was poised for a third -- which would have been his 2,500th career hit -- when facing Duke. He worked the count full, but Duke sent him back to the bench swinging at a 91-mph fastball.
"Duke looked good," Baker said. "On other teams that I was on, we didn't hit him very well. I couldn't figure out why he left Pittsburgh. Washington released him, and we picked him up."
The Reds have done well with castoffs from other clubs, and Duke is poised to continue the tradition. He was released by the Nationals after a rough three months in their bullpen but found his form again in Louisville.
"Probably 20 percent of our team is six-year free agents, guys who've been released, and guys that get a fresh start with us," Baker said. "Hopefully he can contribute."
When things did not happen as quickly as Duke hoped with the Reds, he took the opportunity to test the waters, asking for his release Aug. 3, then re-signing 10 days later.
"I opted out," Duke explained. "I figured I'd see what else was out there, and it turned out nothing else was out there. The Reds were gracious enough to take me back."
Owen Perkins is a contributor to MLB.com. This story was not subject to the approval of Major League Baseball or its clubs.