Late life on offense not enough to beat Tigers
Late life on offense not enough to beat Tigers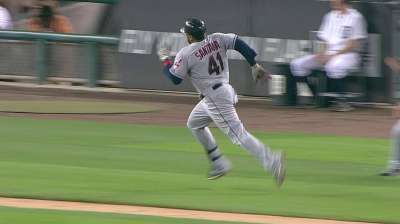 DETROIT -- The Indians' offense showed some life Saturday and even bashed a couple of home runs. It wasn't enough, however, even with Miguel Cabrera out of the Tigers' lineup. The Indians lost, 10-5, at Comerica Park. Cleveland has lost all five games of a six-game road trip that concludes Sunday.
In 2010, the American League Central-winning Twins went 13-5 against the second-place White Sox, but that's nothing compared to the way the Tigers have beat the Indians. The Tribe have lost 13 of their last 14 games against Detroit and are now 8 1/2 games back in the AL Central.
"Sometimes teams got your number," Nick Swisher said. "You kind of have to take it on the chin and keep moving on. Keep fighting, keep scratching, keep clawing. It's frustrating, there's no doubt about that. We just have to keep fighting. That's our only option."
Trailing, 6-2, after the sixth inning, the Indians were able to battle back with a solo home run by Yan Gomes in the seventh and a two-run inside-the-park homer by Carlos Santana in the eighth, cutting their deficit to one.
The Tigers, however, rallied for four runs on five hits in the bottom of the eighth to take a commanding 10-5 lead.
"They just kept coming at us," manager Terry Francona said. "We fought back, which was really good to see. But they kept coming, and we couldn't keep them from scoring."
It was the first time the Indians scored more than two runs in a game on their road trip. They also went 3-for-7 with runners in scoring position after going 1-for-25 in their last four games.
"Cleveland's going to fight," Tigers third baseman Ramon Santiago said. "They're a good team. They're going to fight. They're not going away. They're going to keep playing. That's why in the eighth, we're winning by one run, we know we need to put up a couple more, and we did."
For the second straight night, the Indians took an early lead. Michael Bourn drew a leadoff walk and eventually scored on a two-out single by Santana, giving the Tribe a 1-0 lead.
After Scott Kazmir stranded two Tigers on base in the bottom of the first, Detroit did its damage in the second. With two runners on and no outs, Omar Infante lifted an 0-2 slider over the left-field wall for a three-run homer.
"When I had him 0-2, I was looking to bury a slider and I ended up throwing a cement mixer it seemed like," Kazmir said. "It was just a slider that was belt high, a little bit more up, inner half of the plate, and he didn't miss it."
Detroit added another run on a single by Torii Hunter, stretching its lead to 4-1.
"The first couple of innings were a little rough," Kazmir said. "I got out of a jam in the first inning, just wasn't hitting my spots. I was able to get ahead of hitters, but when it came down to make a pitch in the first couple of innings, the ball would be left up or out over the middle of the plate."
Kazmir, however, was able to settle in after a choppy first two innings with three scoreless ones, allowing four runs on seven hits and two walks in five innings, and striking out four.
"Kazmir did a good job of keeping them in it," Tigers manager Jim Leyland said. "We did extend his pitches pretty high, but he did a pretty darn good job of keeping them in it. We really, for whatever reason, we got big hits when we needed them."
The big hit has eluded the Tribe for most of August as they struggled at the plate. Their two runs in the eighth inning marked their only multi-run inning since the eighth inning against the Twins on Sunday.
"Unfortunately, on this road trip, we dug ourselves a pretty good hole," Francona said. "Now the best way I know is to dig ourselves out. That's the best way to make it better."
The Indians are going to try to start digging immediately, hoping to forget about their struggles against the Tigers.
"I don't sit around thinking about that," Francona said. "It's not productive. I'm just trying to think of how the heck we're going to beat them tomorrow."
Bobby Nightengale is an associate reporter for MLB.com. This story was not subject to the approval of Major League Baseball or its clubs.