M. Ellis' pinch-hit single inches LA closer to postseason
M. Ellis' pinch-hit single inches LA closer to postseason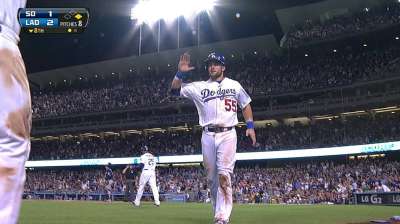 LOS ANGELES -- While the front office was beating the Saturday night deadline to acquire Michael Young for the postseason, the Dodgers continued the journey there by beating the Padres, 2-1.
Mark Ellis' pinch-hit single in the bottom of the eighth cashed in a double by Skip Schumaker with the tiebreaking run and provided Brian Wilson with his first victory as a Dodger in relief of Chris Capuano, who contained San Diego to a home run from Ronny Cedeno in seven innings for a no-decision.
While this week's acquisition of Edinson Volquez has led to speculation that Capuano's rotation spot could be in jeopardy, the Dodgers have won eight of Capuano's last nine starts.
"There's always pressure in a sense that there's always someone ready to take your spot if you're not getting it done," said Capuano, who has tweaked his mechanics with pitching coach Rick Honeycutt. "The only pressure is me just trying keep up with these other guys and give us a chance to win."
Closer Kenley Jansen continued his dominance by pitching a scoreless ninth inning for his 16th consecutive successful save and 23rd on the season.
As a reflection of the team's turnaround, this game featured solid pitching, clutch hitting (despite stranding 12 runners), run-saving defense by Yasiel Puig and more personnel hoarding by the front office, with the latest acquisition receiving rave reviews in the postgame clubhouse.
"You can't ask for a better September callup than Michael Young," said Schumaker, who became friendly with Young because they both played for UC-Santa Barbara. "Juan Uribe has been amazing for us. Michael Young is a winner. As a person, and as a baseball player, anybody in the big leagues would love to have him."
Young fits the profile of general manager Ned Colletti's August additions in a stretch run, which includes solid citizens with postseason experience such as Greg Maddux, Jim Thome and Marlon Anderson.
Barring injuries, Young's role figures to be as a fill-in to give some rest to corner infielders Uribe and Adrian Gonzalez at first base; not that either is about to collapse, as both had a pair of hits Saturday night.
In October, Young will provide a right-handed threat off the bench, which the Dodgers have lacked whenever Scott Van Slyke isn't around.
"It's never bad to have a good player," said Ellis. "I played with Oakland against him and Texas for a long time and he seemed to always beat us. You don't like when he comes to the plate because you know he's going to get big hits. Michael Young can never hurt a baseball team."
"He adds another dimension to the whole team," said Andre Ethier. "How do you not like it? He still knows how to hit."
Gonzalez, a teammate of Young's when both played in Texas, helped the Dodgers get off the mat Saturday night. His RBI single off Andrew Cashner tied the game at 1-1, scoring Jerry Hairston, who opened the inning with an infield pinch-single.
"The at-bat before, he pitched me a little bit different than how he had pitched me the first two at-bats, so it kind of took me off my game plan a little bit when I struck out," said Gonzalez. "So that last at-bat, I knew he was going to come at me in a similar way to that strikeout, so I just looked for sinkers down and away and tried to stay on them and I was thinking up the middle or the other way."
"It was a sinker down," Cashner said. "I don't know how he lifted that ball."
The Dodgers finished August 23-6 (a Los Angeles record for the month) and the second-best monthly winning percentage in Los Angeles history, but it might have been different if not for Puig's defense.
Puig, who had four hits Friday night, didn't get any on Saturday, but he influenced the game anyway by cutting down a runner at the plate and making another tough catch.
The heat has had baseballs flying out of Dodger Stadium this week, with the Dodgers slugging three on Friday night and the Padres nearly going back-to-back with two outs in the fourth inning off Capuano.
Cedeno sent a curveball the opposite way over the right-center fence for his first home run of the season and Rene Rivera followed with a double off the right-field fence.
That brought up Cashner, who laced a line drive to right field, where you-know-who made a slow approach to the ball and seemed to almost decoy Rivera, a slow catcher, to try to score from second. Rivera headed home and Puig unleashed a powerful and accurate one-hop throw that catcher Tim Federowicz gloved and slapped a tag on Rivera, who tried to slide around and reach back to touch the plate, but umpire Jerry Layne called him out.
"I think he wanted to throw him out," Federowicz said. "It kind of looked that way. That's why he's as good as he is. He'd rather throw him out at the plate than have the runner hold at third."
"It was a beautiful throw," said Capuano. "He's got a great arm. They were being aggressive. He had to make a perfect throw and he did, as he often does."
Puig wasn't done on defense. When Jesus Guzman sent a high fly foul near the right-field box seats, Puig came charging and made a tough catch look easy while slamming on the brakes.
Ken Gurnick is a reporter for MLB.com. This story was not subject to the approval of Major League Baseball or its clubs.