Veteran bench providing depth, mentorship
Veteran bench providing depth, mentorship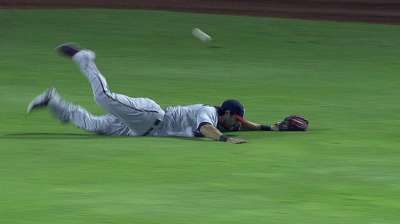 ARLINGTON -- The Rangers have had the luxury of a deep bench this season, something Rangers manager Ron Washington hasn't had often during his time as the skipper. It's been a common occurrence for Washington to turn to his bench during a game for a pinch-hitter or pinch-runner.
On Friday, right-handed hitters Jeff Baker and Craig Gentry were used as pinch-hitters against left-handed pitchers against the Twins.
"It helps keep everybody involved," Washington said. "It gives the everyday guys a break here and there. It helps everyone knows their roles. They know that when there's a change of a pitcher happens, they could get up there to hit.
"We've been consistent with it, so now their minds are in the game a little different than in the past. They're always ready now."
Washington credits the players in the clubhouse for their unselfishness. Craig Gentry has had to change his role during the season as Leonys Martin developed into an everyday starter in center field. Gentry has been able to pinch-hit in late-game situations and also start in left or center as the club's fourth outfielder.
"I think he's doing an excellent job at it," Washington said. "He's not complaining about playing time, and he's ready to go when it's his time to go."
Baker dealt with a thumb injury, but he has become a valuable utility player off the bench who can play first, third or left field.
"I think his presence has helped the other guys," Washington said. "He's always in [Jurickson] Profar's ear. It helps when you got that veteran on the bench that can talk to those young kids and make them aware what's going on over the course of a ballgame, and when they should start getting prepared."
Master Tesfatsion is an associate reporter for MLB.com. This story was not subject to the approval of Major League Baseball or its clubs.