Twins get chance to say goodbye to Morneau
Twins get chance to say goodbye to Morneau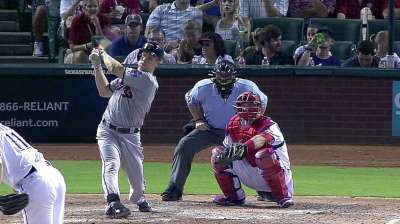 ARLINGTON -- Glen Perkins stepped into the elevator at the Twins' team hotel on Saturday, and looked up and saw manager Ron Gardenhire and casually asked him how he was doing.
Gardenhire simply said, "Not good," and broke the news to Perkins the Twins had just traded their long-time first baseman Justin Morneau to the Pirates.
It was the start of a somber day for the Twins as a result, as Morneau played 11 seasons in Minnesota before being traded for outfielder Alex Presley and a player to be named or cash on Saturday afternoon.
Perkins played with Morneau for eight of those years, and couldn't help but be surprised even though trade rumors had circled around Morneau over the last few months.
"I was kind of in shock that it actually happened," Perkins said. "You have an idea something might happen, and then it doesn't, so when it happens it doesn't really sink in right away. But that's how it goes, I guess."
But Morneau was able to say his goodbyes to his teammates and Gardenhire, as he rode the team bus to Rangers Ballpark to get his belongings before departing for Pittsburgh on a 4 p.m. CT flight.
Reliever Brian Duensing, who was Morneau's teammate for five years, was happy to get a chance to say goodbye but said it was tough hearing the news that Morneau was traded. He also said that he thought the chances of bringing back Morneau this offseason on a new contract aren't good.
"It's disappointing," Duensing said. "Morneau is one of those guys who taught me how to carry myself at this level and go about my business. He taught me how to be a good teammate and what it takes to win. So it's disappointing to see him go, but I'm excited for him to get a chance to make the playoffs."
But catcher Ryan Doumit, who played in Pittsburgh from 2005-11, said he feels like Morneau will be in a good situation with the Pirates, who are on bidding to make the playoffs for the first time since 1992.
"I'm excited for him," Doumit said. "Pittsburgh is a great sports town. They've waited a long time to be in the position they're in. It's a great team over there and a great group of guys. He's stepping into a pretty fun situation."
Rhett Bollinger is a reporter for MLB.com. Read his blog, Bollinger Beat, and follow him on Twitter @RhettBollinger. This story was not subject to the approval of Major League Baseball or its clubs.