Varvaro downplays first save, gets game ball anyway
Varvaro downplays first save, gets game ball anyway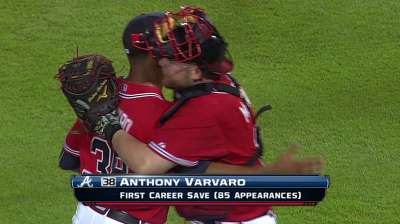 ATLANTA -- Jordan Schafer's initial sense that he had done something wrong came when he and center fielder B.J. Upton were coming toward the infield after Friday night's 2-1 win over the Marlins.
Schafer gained confirmation when instead of providing a celebratory handshake, Braves manager Fredi Gonzalez informed Schafer the ball he had just thrown into the right-field stands was a keepsake for Anthony Varvaro, who had just notched his first career save.
"I told him, 'Go get the ball,' and he did," Gonzalez said. "I didn't say it that easy either."
Schafer rushed into the dugout, grabbed one of the bats and ran back out to the right-field wall. He was fortunate to find the man who was happy to receive the bat in exchange for the ball that had been tossed to him just a few minutes earlier.
"I felt really bad," Schafer said. "That's why I hurried up and went back out there. It would be like if somebody took my first home run ball and threw it in the stands. It's something you want to have to cherish."
Schafer, who had caught Greg Dobbs' long fly to end the game, presented Varvaro with the ball when he returned to the clubhouse.
"I don't know if he went in the [indoor] batting cage and picked [a ball] up or what," Varvaro said. "But he came back with one."
Whatever the case, it does not sound like Varvaro plans to showcase the ball with any of his other prized mementos.
"I'll probably throw it in the ball bucket or I might give it to my dog," Varvaro said. "It's no big deal. I got the lineup cards and everything."
Gonzalez entered Friday's game knowing he would not use closer Craig Kimbrel or right-handed setup man Jordan Walden, who has been dealing with a sore groin this week. Nor did he really want to use left-handed setup man Luis Avilan, who had made four appearances in the previous six days.
Thus Varvaro was given the opportunity to work the final two innings and notch his first save in what was the 85th relief appearance of his Major League career.
"I feel like it was just another outing," Varvaro said. "My goal every time I go out there is to put up zeros. It doesn't matter if there is an "S" next to my name in the box score or nothing. As long as there is zeros after it, I'm fine."
Mark Bowman is a reporter for MLB.com. This story was not subject to the approval of Major League Baseball or its clubs.