Ike's season could be over with strained oblique
Ike's season could be over with strained oblique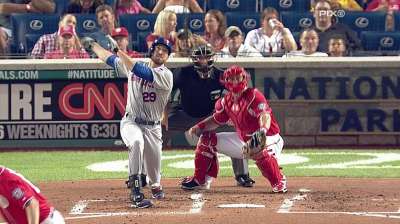 WASHINGTON -- A trying season likely came to an end for Mets first baseman Ike Davis on Saturday night, when he sustained a strained right oblique while taking a swing in the third inning and had to leave the Mets' 11-3 win over the Nationals.
"If it's an oblique and if it's serious, it'll be difficult for him to come back before the end of the season," Mets general manager Sandy Alderson said.
Davis, who will return to New York to be examined further, will not go on the disabled list with rosters expanding on Sunday. But with a month left in the season, it's unlikely he would have time to recover, rehab and return to the Mets.
"What we've seen from Justin [Turner] and [Lucas] Duda and anybody else who's had it, not only this year, it's three weeks before you're even back doing baseball stuff, and that's only one week left, so I doubt we see him," Mets manager Terry Collins said.
"I feel terrible for Ike. He went to the Minor Leagues, worked very hard on some things, came back, started to see some signs ... 2013 is going to go down as a real frustrating year for Ike Davis."
Davis was hitting .161 with a .500 OPS when the Mets demoted him to Triple-A Las Vegas in early June. When he returned about a month later, his performance spiked. After going 0-for-1 with a sacrifice fly on Saturday, Davis was left with a .453 on-base percentage since the All-Star break and a .473 mark in August, with 24 walks. He also had hit three home runs in his past 13 games to give him nine for the year.
"I kind of found where I needed to be in my stance and my rhythm and where my hands should be, so I was actually really excited with how I swung the bat the last couple weeks, starting to hit the ball in the air consistently, which leads to home runs," Davis said. "Obviously, I can play better than I did in the first half, because I showed that I can. Hopefully, I can do it for two half seasons next year."
If Davis' season is over, he'll finish with a .205/.326/.334 line and 33 RBIs in 377 plate appearances. He admitted that all the work he did trying to correct his problems at the plate might have led to the injury.
"Obviously, I did swing a ridiculous amount for a long time trying to figure out how to play again," he said.
Davis had felt some tightness in his side for a couple of months, and during that time, he believed a strain could happen anytime. But the discomfort had gone away about a week ago, so Davis was surprised when he hit a sac fly to left field in the third inning and grabbed his side in pain.
After the game, Davis said he felt OK standing up. But earlier he was eating sunflower seeds on the bench, and when he coughed, "it felt like someone stabbed me."
"I don't think that's a good sign," he said.
With Davis out, Collins said that Lucas Duda, recently recalled from Las Vegas, will take over primary first-base duties. Josh Satin also will get some time against left-handed pitching. Alderson added that the club likely will call up a player from Las Vegas to add to the roster.
Andrew Simon is a reporter for MLB.com. Follow him on Twitter @HitTheCutoff. This story was not subject to the approval of Major League Baseball or its clubs.