Danks, White Sox taken down by old friend Peavy
Danks, White Sox taken down by old friend Peavy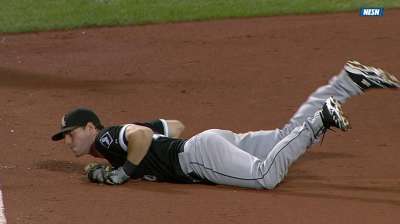 BOSTON -- Jake Peavy served as a mentor for the young pitchers on the White Sox staff.
He showed them all that goes into preparation for a given start out of the 32 or 33 for a season, using everything from scouting reports to intense video study of the opposition.
John Danks called Peavy a "bona fide ace" when speaking of the right-hander Friday evening.
In the Red Sox's 7-2 victory Saturday night at Fenway Park, Peavy pitched like a No. 1 starter, schooled the White Sox in the process and beat Danks, one of his good friends. The White Sox knew what Peavy had to offer, having watched him up close and personal for parts of the past five years, but Peavy's knowledge of the White Sox hitters held the winning edge in the second game of this weekend series.
"He had a better game plan than we did," said White Sox manager Robin Ventura of Peavy, who allowed two runs over seven innings, marking his first start against the White Sox since they moved him to Boston as part of a three-team trade on July 30. "He does his homework and he's good at it. He's good at seeing some weaknesses in people and he tried to exploit it today."
"You know guys. I just knew those guys a little bit more than you knew guys around the league," Peavy said. "But most of the time when you face a team, you have a buddy or somebody you played with on the other team."
While Peavy yielded five hits and one walk and fanned four, Danks didn't have quite the same good fortune. The White Sox southpaw exited after five innings, with the Red Sox (81-56) scoring six runs on 11 hits.
With the game tied at 2, Boston got to Danks (4-11) during a three-run, four-hit fourth, with Jacoby Ellsbury, Dustin Pedroia and David Ortiz picking up RBIs. This outing snapped Danks' personal two-game winning streak and ended a streak of 12 straight starts in which he worked at least six innings.
Facing Peavy wasn't strange for Danks, who didn't have to hit against the Boston hurler. He was simply disappointed that the production on his side didn't match that of Peavy.
"I knew I had to be good and simply wasn't. Jake did what he was supposed to do with the lead," said Danks, who had trouble with his command within the strike zone. "Kudos to him, I guess. It's a little disappointing to not pull my end of the deal and pitch as well as I had hoped."
Alejandro De Aza drove in Conor Gillaspie with a run-scoring groundout in the third and Avisail Garcia singled in Alexei Ramirez in the fourth for the runs scored against Peavy. Garcia came to the White Sox in that Peavy trade, with Jose Iglesias going to the Tigers, so he was one of the few hitters Peavy didn't know.
White Sox designated hitter Adam Dunn, whom Peavy called his "best friend in the world," is a different story. The two joked Friday about what could happen when they met up on the field, with Dunn talking about hitting right-handed or at least getting on base and trying to steal second because Peavy said the big man couldn't do it.
What resulted Saturday was Dunn finishing 0-for-3 against Peavy and probably missing a few pitches he could have or should have hit.
"That's kind of a bad thing about being a buddy with a pitcher," Dunn said. "They get traded and everything you've told them, it's not very good. He had a good game plan and when he executed, that's what happens."
"Adam is a great competitor, and it was a little bit different," Peavy said. "It's always nice where you come out on top where you just don't have to listen to it. That team is in a rough position not playing for anything, and there won't be any jabs maybe till middle of the winter."
Saturday's loss reduced the White Sox elimination number to five in the American League Central and 10 for the American League Wild Cards, with the White Sox (56-78) now certain to have a poorer record than their 85-77 mark in 2012. They also moved back into third in the 2014 First-Year Player Draft order by losing back-to-back games for the first time since Aug. 14-15, and finished August at 16-13.
This lack of overall White Sox success has Peavy (11-5) turning in strong outings for the AL East-leading Red Sox instead of remaining a part of Ventura's crew. The White Sox wish Peavy well and fully understand the positive effect he will have on Boston's postseason chances.
Their hope to derail him on Saturday, thought, didn't quite work out.
"I've been very complimentary to Jake for tons of reasons," Danks said. "He's a guy who's obviously very good and knows what he's doing. He's going to help Boston a lot in the playoffs. That was a big pickup for them. Certainly wish him all the best, but I wish we could have beat up on him tonight."
"It was a good feeling to have, actually," said Dunn of facing Peavy. "A little extra, I wouldn't call it motivation, but you had a little extra something to each at-bat. I got pitches to hit, I just didn't hit him."
Scott Merkin is a reporter for MLB.com. Read his blog, Merk's Works, and follow him on Twitter @scottmerkin. This story was not subject to the approval of Major League Baseball or its clubs.