Starlin's home run powers Cubs to win over Phils
Starlin's home run powers Cubs to win over Phils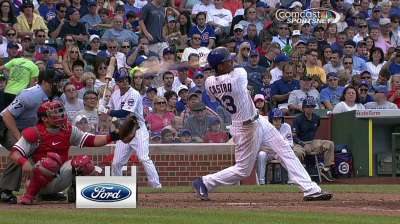 CHICAGO -- All Starlin Castro wants to do is be himself, and he took a big step to get there on Saturday.
Castro hit his first home run in a month, smacking a tiebreaking shot to lead off the sixth, and Cole Gillespie drove in two runs to lift the Cubs to a 4-3 victory over the Phillies for just their fourth win in the last 21 home games.
The Cubs evened the series at Wrigley Field in front of 36,410, and spoiled Phillies interim manager Ryne Sandberg's bid for a sweep against his former team. Chicago is now 5-14 in one-run games at home.
Chris Rusin showed how much he's matured by shrugging off an error in the third, while Castro acknowledged he's taking a better mental approach at the plate. That's a good sign for the Cubs.
"These first five months, I don't put them in my mind any more," Castro said. "I was thinking too much about too many things. I was thinking about hitting, thinking about defense, thinking about everything. This last month, I put in my mind to finish strong."
Castro hit .300 or better in his first two seasons in the big leagues, but he's hitting .242 this year. What's his attitude now?
"Be me," Castro said. "That's what I want to be. Be me. If I strike out against a bad pitch, so what? Take [care of] it in the next at-bat. That's the feeling I need. In the beginning, if I miss in the first at-bat, I'm gone. That [shouldn't happen]. If you miss the first at-bat, you have three left. Keep positive every at-bat."
With the game tied at 3 in the sixth, Castro led off with his eighth home run of the season, connecting on a 1-0 fastball from righty Zach Miner and sending it deep to center field. It was his first homer since July 31. The Cubs now have 89 home runs at Wrigley, second most by a team at home in the Majors behind the Orioles, who have 94.
Castro has already set a career high in strikeouts this season with a month to go (111), and the swings and misses have bothered the 23-year-old. Not anymore.
"I want to be an aggressive hitter," Castro said. "If I strike out on a bad pitch, so what? [The pitcher] has to throw a strike, no matter what. I can strike out, but the next at-bat, do an adjustment."
"He's been swinging the bat with a lot more authority lately," Cubs manager Dale Sveum said, "and to see him put that kind of swing on that ball to center field with the wind blowing in, that was nice, especially a game-winner.
"It's nice the ball is coming off his bat like it did a couple years ago and last year," Sveum said.
It was a seesaw battle through five innings. Kevin Frandsen, who hit a game-tying home run in the seventh on Friday, gave the Phillies a 1-0 lead with a homer with two outs in the second off Rusin.
Welington Castillo, Darnell McDonald and Gillespie hit consecutive singles to tie the game with one out in the second against Cliff Lee, as Castillo scored on Gillespie's hit.
With two outs in the Phillies' third, Chase Utley hit a grounder to Donnie Murphy, but Anthony Rizzo closed his glove before catching the ball for an error. Utley then stole second, and Carlos Ruiz followed with an RBI double. Rusin should've been out of the inning after throwing eight pitches, but he instead needed 16 more to finish the inning.
Rusin took a deep breath, and kept going.
"That's what you have to be prepared for as a pitcher," he said of the third inning. "You can't expect routine plays to be dropped, or whatever happened. We're all human and we all make mistakes. You've got to pick your teammates up. I thought I minimized the damage."
The Cubs got some payback in their half. With two outs in the third, Murphy was safe on an error by Michael Young. Junior Lake then singled, and Murphy scored on Castillo's single.
Young hit an RBI triple with two outs in the fourth to take a 3-2 lead, but the Cubs loaded the bases with one out in the fifth, and tied the game again on Gillespie's sacrifice fly. That was Lee's last inning. The Phillies lefty was the fourth Cy Young Award winner the Cubs have faced in five games -- and the only one to get a win was the Dodgers' Zack Greinke on Monday.
"I feel like I had to battle," Lee said. "It seemed like they had a lot of long at-bats and grinded me out and saw a bunch of pitches and battled."
Rusin did not get a decision, but the rookie left-hander did finish August with a 2.65 ERA in six starts.
"He was here last year and had some struggles, but understood, 'This is what I have to do to get big league hitters out,'" Sveum said. "He's been able to do that. I think the biggest thing for him maturity-wise is making the pitches when he has to make them. That's been the difference."
Rusin agreed.
"I feel a lot more comfortable," he said. "Last year, I probably would've not been able to throw a strike after what happened [in the third]. This year, I'm able to do that. It's a lot easier after having a couple games under my belt and knowing I can be successful at this level."
Castro knows that feeling, too.
Carrie Muskat is a reporter for MLB.com. She writes a blog, Muskat Ramblings, and you can follow her on Twitter @CarrieMuskat. This story was not subject to the approval of Major League Baseball or its clubs.