In early hole vs. Bucs, Cards fall out of tie for first
In early hole vs. Bucs, Cards fall out of tie for first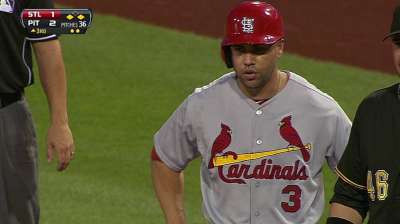 PITTSBURGH -- It's familiar territory that they had hoped to dodge, but once again, the Cardinals will scoot into September with a division deficit to erase.
This time the hole is only one game, a plenty manageable roadblock for a team that trailed the National League Central leader by 8 1/2 and 9 1/2 games, respectively, entering the final month of the last two seasons. That climb, however, will continue to become steeper if the Cardinals cannot find a way to pick apart the Pirates.
Pittsburgh continued its dominance over St. Louis at PNC Park on Saturday night, this time pounding Lance Lynn for seven early runs in an eventual 7-1 win with the second-largest crowd in the ballpark's history (39,514) looking on. The win ensures the Pirates not only of winning this series, but also of winning the season series.
With four head-to-head matchups remaining, the Cardinals have lost 10 of 15 to the division's new darling. Seven of those losses have come in Pittsburgh.
"We haven't had much success here. I don't know the reason why," Carlos Beltran said. "They've just been pitching [well]. Every time we come here, it seems like every starter that we face, seems like he has a good game plan."
Fending off the Pirates is one September task for St. Louis. The other would be getting Lynn back on track. The right-hander wrapped up August 1-4 with a 5.84 ERA and big-inning issues at the forefront of his struggles.
Pittsburgh scored its first two runs off Lynn with two out in the second. A.J. Burnett struck first with an RBI single to right. Beltran's decision to throw to third eliminated the possibility for a play at the plate. Jose Tabata snuck a single into right to tack on another run. It marked the 12th time in the 15 meetings that the Pirates dented the scoreboard first.
"I should have come out of the inning with nothing," Lynn said. "That's my fault. I have to make a better pitch to the pitcher there. That one is on me."
Lynn also shouldered the blame for what happened next. After the Cardinals answered with Beltran's RBI single in the third, Lynn allowed the inning to implode.
Jon Jay couldn't run down Pedro Alvarez's deep drive to center, allowing the Pirates third baseman to ignite the inning with a leadoff double. Marlon Byrd pushed him home with a single, after which Garrett Jones drew a walk. Russell Martin then crushed a 2-1 fastball out to right-center to put Pittsburgh ahead, 6-1.
"That's unacceptable," Lynn said. "This one is on me. They fought back to give me a one-run game and I turn around and give them five. That's not very good."
"[It] gives you a net to work with," added Pirates manager Clint Hurdle. "Big swing from [Burnett] to just get things going. And then [a] big swing for Russell."
It was the 18th home run the Pirates have hit off Cardinals pitching this season. The Cards, in contrast, have just three, all of which came during a home game in April.
A pair of two-out hits capped the five-run frame, making this the second time in Lynn's last three starts that he has allowed that many runs in one inning. His night was done after the fourth, forcing the bullpen to endure a hefty workload for the second straight night.
"We have to get our starters to go deeper, no question," manager Mike Matheny said. "That's where it all starts. We need our starters to have a good solid outing, give us a chance. The success through our season has really hinged on what our starters have been able to do."
Lynn's inability to avoid successions of hits continues to be a concerning trend at a time when the Cardinals are seeking that rotation stability. Lynn has allowed at minimum a three-run inning in 12 separate starts this season. That includes four of the last five.
He said he doesn't see a mechanical issue as the root of the problem but offered that perhaps the best solution to getting out of those jams would be "to will it more instead of just hoping it happens."
Meanwhile, St. Louis' offense again can find no traction against Pittsburgh pitching. A night after being shut out, the Cardinals scored just once off Burnett, who pitched an efficient seven innings. That's the only run they have scored since Tuesday.
It's more of the same, too, for the Cardinals at this ballpark. The offense has scored 23 runs in its two PNC Park wins this year. In the seven losses, the Cards have tallied eight total.
"There's no doubt that we have to play better against them," Beltran said. "It's a little bit of everything. They're pitching [well]. [Francisco] Liriano has won three times against us. Burnett, every time we face him it's just a battle. They have good pitchers. We have a good lineup. But we're not playing [well] against them."
The Cardinals are over the halfway point in this 17-game stretch against the Braves, Reds and Pirates. They've won five of nine, yet find themselves in the exact same division spot that they had entering this key stretch.
A win is needed on Sunday for the Cardinals to leave town with a share of the division lead.
"We lost the first two games, but we have some games left to play and we're down one," said Allen Craig, who tallied two of the team's six hits. "We have a lot more big games to play."
Jenifer Langosch is a reporter for MLB.com. Read her blog, By Gosh, It's Langosch, and follow her on Twitter @LangoschMLB. This story was not subject to the approval of Major League Baseball or its clubs.