Blue Jays walk fine line with win over Royals
Blue Jays walk fine line with win over Royals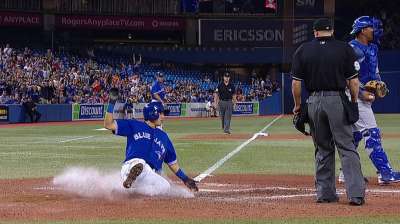 TORONTO - The Blue Jays batters were handcuffed nearly all game against Royals starter Jeremy Guthrie. But they seized an opportunity against the American League's ERA-leading bullpen.
Brett Lawrie and Rajai Davis drew bases-loaded walks in the eighth inning off reliever Aaron Crow as the Blue Jays also benefited from an error during their rally for a 4-2 win on Saturday at Rogers Centre.
Guthrie tossed seven strong innings and was in line for the win, but the Blue Jays struck for three runs in the eighth facing a quartet of Royals relievers. With runners on first and second in a 2-2 game, lefty Will Smith induced a ground ball off the bat of Ryan Goins, but shortstop Alcides Escobar, with a chance for an inning-ending double play, booted it, allowing Muneori Kawasaki crossed with the tying run.
"We got a break on the error at shortstop there, and then some good at-bats," Blue Jays manager John Gibbons said. "Take a couple of walks here, you don't see that that often either, especially out of their bullpen."
With the Royals up by one, pinch-hitter Kawasaki and Jose Reyes singled against reliever Kelvin Herrera.
With one out, Smith came on to face rookie left-handed-hitter Goins, who had tied the franchise record for longest hitting streak to start a career (eight games) with a single in the first.
The lefty-lefty matchup was a sign of faith from Gibbons that didn't go unnoticed by Goins.
"Just knowing he thinks I can get the job done against the left-handers is huge," Goins said. "If he keeps putting me in, I'm going to give him my best."
Goins ripped a 2-2 slider that handcuffed Escobar, tying the game and extending the rally.
"The shortstop actually said that Kawasaki was blocking him, so good thing he was standing there blocking him, or it's probably an easy double play," Goins said.
"Will Smith did a perfect job to get the perfect double-play ball," Royals manager Ned Yost said. "[Escobar] didn't see the ball until the last second. He makes that play with a clear line of sight."
Smith then walked Edwin Encarnacion to load the bases and Aaron Crow came on and proceeded to walk Lawrie and Davis with two outs to put the Blue Jays ahead to stay. Yost also was ejected following Davis' walk for arguing balls and strikes with home-plate umpire Will Little.
"It's a terrible way to lose a game," Crow said. "The bullpen came in in the eighth and really didn't do our job today. That's on us."
The Blue Jays encountered some trouble in the ninth as closer Casey Janssen hit leadoff man David Lough before giving up a one-out single to pinch-hitter George Kottaras to runners on the corners.
But Janssen, as he did in Friday's 3-2 win, recovered to strike out Alex Gordon for the second out. With Emilio Bonifacio up next, catcher J.P. Arencibia ended the drama and sealed Janssen' 26th save by gunning down pinch-runner Chris Getz at second on a stolen base attempt.
"That's better than anything else," Arencibia said. "You can impact a game like that, finish that. That's a good as anything you can do out there. Catching-wise that's a lot of fun."
It was the 19th attempted would-be base stealer caught by Arencibia this season.
Until the decisive eighth, Guthrie was in line for his 14th victory. The 34-year-old right-hander had a shaky three-hit opening frame, but held the Blue Jays to five hits in his final six innings.
The only run he allowed came on a single down the left-field line from Josh Thole that scored Rajai Davis in the seventh to make it 2-1.
The Blue Jays' rally made a winner of starter R.A. Dickey, who improved to 11-12 and seems to have figured out how to pitch at home.
Coming into Saturday's game, Dickey owned a 5.48 ERA at Rogers Centre, two full runs higher than on the road. Over his last three starts, however, the knuckleballer has allowed just six runs and has a 2.53 ERA.
Dickey, who tossed eight solid innings, was strong outside of a pair of RBI singles to Escobar and Eric Hosmer in the second and third innings as the Royals grabbed a 2-0 lead.
The 38-year-old knuckleballer said he's starting to see some results from the adjustments he's made at home, and in particular changing the speeds of signature pitch more consistently.
"I changed speeds quite a bit today," Dickey said. "I was able to keep the slower knuckleball down, and got some outs with it. Any time you can add and subtract speed in the strike zone, you're going to have a better chance of your opponent mishitting balls. That was helpful for me today. I took some risks, and they paid off."
Evan Peaslee is an associate reporter for MLB.com. This story was not subject to the approval of Major League Baseball or its clubs.