Homers pick up Twins in go-ahead seventh
Homers pick up Twins in go-ahead seventh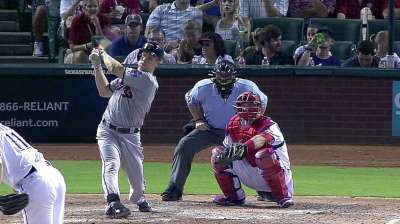 ARLINGTON -- As far as unlikely victories go, the Twins will have a tough time topping their performance against the Rangers on Friday night.
The Twins sent Liam Hendriks to the mound with just one career win in 24 starts to go up against Yu Darvish, who has established himself as a bona fide ace and leads the Majors in strikeouts by a sizeable margin.
The game went as expected in the early going with a dominant performance from Darvish, but the Twins used a pair of seventh-inning homers from Chris Herrmann and Justin Morneau to go from being no-hit by Darvish to a 3-2 victory at Rangers Ballpark.
"We hurt their feelings in Vegas," Twins manager Ron Gardenhire said with a smile.
Darvish was dealing, holding the Twins hitless for six innings before Herrmann connected on a 2-0 cutter for a two-run shot in the seventh after Brian Dozier drew a walk. It was the stuff of fairy tales for Herrmann, as the Tomball, Texas, native's parents and brother were in attendance to see him play in person for the first time in his big league career.
"Darvish is one of the best pitchers in the game and he has a lot of strikeouts for a reason, so you don't plan to hit it like that because he's been so successful," Herrmann said. "You just have to see a good pitch to hit and take advantage, and I feel like I did that with the inside-cutter I hit a home run with."
Morneau quickly followed with a solo blast into the second deck in right field on a 2-1 slider to give Minnesota the lead for good. Morneau simply guessed right, as he anticipated Darvish going with something offspeed after falling behind.
"I think he got us out a lot on that pitch throughout the game," Morneau said. "So I had it in the back of my mind, it was something he might throw there. I think if he locates it -- it caught a lot of the plate -- it might've been a different story there."
The homers spoiled an impressive night for Darvish, who struck out 11 batters over 6 2/3 innings, giving up three hits and two walks. He exited after giving up a two-out double to Trevor Plouffe, who was later thrown out at home plate by center fielder Leonys Martin on a single from Clete Thomas off reliever Neal Cotts to end the inning.
"I'm very frustrated," Darvish said. "When I gave up those home runs, it changed the whole momentum of the game. I take the blame."
Darvish's performance overshadowed a strong outing from Hendriks, who kept the Twins in the game and ended up picking up his second career win. The right-hander went six innings, allowing two runs (one earned) on five hits and three walks. "It had been almost a year," said Hendriks about picking up his first win since Sept. 19. "I don't care who it's against. I just want to pile them up a little bit. But it was a big thing for my confidence. I relied pretty much solely on my sinker and my slider, and it paid off."
The Rangers opened the scoring with a solo shot from Jurickson Profar with one out in the third inning to mark the first hit for either club on the night.
Texas added another run in the fourth with the help of a throwing error from Herrmann on a stolen-base attempt by Ian Kinsler, who reached first on a single and advanced to third on Herrmann's throw into center field. Former Twins catcher A.J. Pierzynski brought Kinsler home with an RBI groundout to Morneau at first base.
Hendriks was also helped by his defense, as Dozier made several impressive plays, including run-scoring stabs to end the fourth and sixth innings. He was able to rob childhood friend Mitch Moreland of an RBI single in the sixth on a diving stop, which helped the Twins and gave him bragging rights.
"It was great," Dozier said. "I grew up with Mitch. So after I did it, I looked back and he was giving me the mean mug the whole way. But it came up in a good situation."
But it was all the Rangers could muster against the Twins, who used relievers Brian Duensing, Josh Roenicke, Jared Burton and closer Glen Perkins over the final three innings to preserve the win, which snapped a five-game losing streak.
The Rangers threatened in the seventh, when pinch-hitter Craig Gentry tripled with one out on a ball that was misplayed by a diving Darin Mastroianni in right field. But Duensing was able to get Martin to ground out to second and Roenicke got Elvis Andrus to ground out to short to get out of the jam.
"Our bullpen took over and just did a super job," Gardenhire said. "We hung in there against a really tough pitcher and found a way to win a game against a very good team. We had a lost a few in a row so to come in this place and win is exciting."
Rhett Bollinger is a reporter for MLB.com. Read his blog, Bollinger Beat, and follow him on Twitter @RhettBollinger. This story was not subject to the approval of Major League Baseball or its clubs.