Price derailed as Rays drop opener with A's
Price derailed as Rays drop opener with A's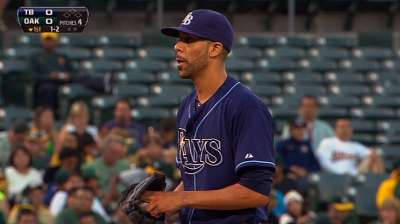 OAKLAND -- Rays players had the kind of day that would make "The Big Bang Theory" look like a drama. Only it really wasn't that funny.
David Price lost a large pile of cash to a long taxi ride and then lost a game.
Fernando Rodney wasn't available to pitch in the eighth inning because he was locked in the dugout bathroom.
The Rays rallied to tie the game in the eighth but Oakland answered in its half of the frame, and the A's downed Tampa Bay, 4-3, on Friday night at O.co Coliseum.
The Rays fell 3 1/2 games behind the Red Sox in the American League East and dropped to a half-game behind the A's for the top spot in the AL Wild Card race.
Price (8-6) went seven-plus innings, allowing four runs (three earned) on six hits. He walked one and struck out five.
Price had his personal five-win streak come to an end as the Rays lost their fifth in six games.
Second baseman Ben Zobrist's record 81-game errorless streak also came to end. He misfired on a throw in the fifth inning that gave the A's the chance to build a 3-1 lead.
Price retired 12 of the first 14 batters he faced before Zobrist committed his error, allowing Alberto Callaspo to reach second.
Price walked Chris Young, struck out Brandon Moss and gave up Kurt Suzuki's three-run home run.
"It was my error, no question," Zobrist said. "I don't think he walks Chris Young unless the error is made. He was cruising up to that point. I threw it too hard and too high and it got away from me."
Price wasn't about to blame anyone but himself.
"Those guys have been unbelievable for me all year," he said. "That was tough. But I knew what [Young] was trying to do and sometimes a walk can be a good thing. With Moss, I was trying to get the double play but didn't make a good enough pitch."
Price also felt Suzuki hit a pretty good pitch for the home run.
"It was over the plate and I guess it had too much height," he said.
The Rays rallied for a pair of runs in the top of the eighth, with Matt Joyce hitting a sacrifice fly and James Loney doubling home a run to tie it at 3.
"It was great just rallying in the eighth," Zobrist said. "It felt dead offensively until that point. There was still a lot of life."
Rodney would have loved to have been a part of the action, but he somehow got locked in the bathroom for 15 minutes and had no idea what was going on.
"Yeah, that's weird," Rodney said. "I heard all the commotion and I wanted to see the game."
Had Rays manager Joe Maddon thought about it, he would have left Rodney locked up.
"It was right when we were rallying," Maddon said. "I should have kept him in there. It was a fun moment. Part of the rally was the bat beating on the knob."
That was just the last in a long line of miscues that haunted the Rays on Friday. Price wanted to get to the park early, so he took a cab from the team's hotel in San Francisco.
A normal 20-minute ride turned into a two-hour nightmare for the pitcher. The Bay Bridge is closed for the weekend and the cab had to swing down the peninsula and across another bridge -- just like thousands of others who were trying to beat the traffic out of town at the start of a holiday weekend.
"It was a bad day all the way around," said Price, who paid a $202 taxi bill.
Yunel Escobar gave the Rays a 1-0 lead in the second inning, and the way Price was working, it seemed like enough.
Price gave up a single to Coco Crisp leading off the bottom of the eighth. Joel Peralta relieved him and gave up Jed Lowrie's double that scored Crisp for the go-ahead run.
Rick Eymer is a contributor to MLB.com. This story was not subject to the approval of Major League Baseball or its clubs.