Darvish's gem sees bumpy end as Rangers fall
Darvish's gem sees bumpy end as Rangers fall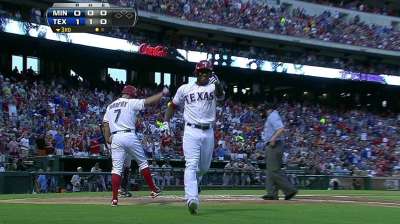 ARLINGTON -- At the end of his postgame press conference on Friday night, Rangers starter Yu Darvish quickly summed up his feelings about what's happened in his last few starts.
"Yes, I'm very frustrated," Darvish said as he got ready to exit the Ballpark in Arlington after a 3-2 loss to the Twins on Friday night.
Darvish has reason to be frustrated. He had a no-hitter through six innings and a 2-0 lead on Friday night. At that point he had walked one and struck out 10, including the side in order in the sixth.
But the no-hitter drama and the Rangers' lead disappeared in the seventh. He walked Brian Dozier to start the inning, then gave up a two-run home run to Chris Herrmann and a go-ahead home run to Justin Morneau.
The Rangers never recovered and their three-game winning streak came to an end on a hot August night in which the game-time temperature was 100 degrees and down to only 97 when Darvish walked off the mound unable to finish the seventh.
"I always tell myself and tell the team, the main goal is to keep the team in the game," Darvish said. "When I gave up those home runs, it changed the whole momentum of the game. I take the blame."
The Rangers have lost Darvish's last three starts. He had a 2-0 lead into the sixth inning last Saturday in Chicago before giving up a game-tying home run to Adam Dunn. The Rangers lost that one in the ninth. Friday night marked the fifth time this season Darvish has had a lead in a game and the Rangers still ended up losing. They are now 14-12 in his 26 starts.
"Of all the pitches he threw tonight, two made the difference," manager Ron Washington said.
"He made two mistakes," catcher A.J. Pierzynski said. "Threw a 2-0 fastball down and in to Herrmann and then hung a slider to Morneau. Other than that, he was fine. But he made two mistakes and they didn't miss them."
The Rangers took a 1-0 lead in the third inning on Jurickson Profar's fifth home run of the season, this one off Twins starter Liam Hendriks. In the fourth, Ian Kinsler led off with a single, stole second with one out and advanced to third on Herrmann's throwing error. He scored on Pierzynski's grounder to first.
That was it for the Rangers. They were 0-for-6 with runners in scoring position, partly because of Dozier's defense at second base for the Twins. The Rangers had two on and two out in the fourth and Dozier made a terrific diving stop on Profar's grounder to end the inning. He made a similar run-saving play in the exact same situation in the sixth, making a tremendous diving stop on Mitch Moreland's grounder.
"They made some good plays defensively and we had some opportunities, and it didn't go our way," Moreland said. "The ball didn't fall, but that's part of the game."
The plays were terrific, but appeared doomed to oblivion while Darvish was bidding for his no-hitter. Then Dozier drew his walk to lead off the seventh and everything changed. Darvish fell behind 2-0 to Herrmann and then threw a fastball that was hit into the right-field seats for a game-tying home run.
"Physically, I felt fine, but when I got into that situation in the seventh inning, I told myself, 'I can't allow a home run,'" Darvish said. "As soon as I told myself that, you saw what happened."
Darvish was also behind 2-1 in the count to Morneau before leaving a slider over the plate. Morneau crushed it, and the ball landed in the second deck in right field.
"I think he got us out a lot on that pitch throughout the game," Morneau said. "I think that's what he thought he could throw the most consistently for strikes. So I had it in the back of my mind, it was something he might throw there. I think if he locates it -- it caught a lot of the plate -- it might've been a different story there. It was just a mistake and he left it over the middle, and you can't miss those."
Darvish retired the next two hitters, but his night came to an end when Trevor Plouffe doubled to left-center. Clete Thomas followed with a single to center off Neal Cotts, but Plouffe was thrown out at home plate by outfielder Leonys Martin on a tremendous throw to end the inning.
Darvish finished the night with 11 strikeouts, giving him 236 for the season and passing Nolan Ryan for the second most in club history. Ryan had 301 in 1989 and 232 in '90. His 64 strikeouts for August is a new club record for one month. It is the most in the Major Leagues for one month since Randy Johnson struck out 70 in August, 2002, for the D-backs.
"Strikeouts are great, but the biggest thing is we need to win the game," Pierzynski said. "We didn't score enough runs tonight to win the game. He threw the ball great, made two mistakes and it cost him. At the end of the day, it's about winning games and we didn't score enough to get it done."
The Rangers missed another opportunity to tie the game in the eighth after Craig Gentry reached on a one-out triple. But the Twins brought the infield in and Gentry was stranded as both Martin and Elvis Andrus grounded out.
T.R. Sullivan is a reporter for MLB.com. Read his blog, Postcards from Elysian Fields, and follow him on Twitter @Sullivan_Ranger. This story was not subject to the approval of Major League Baseball or its clubs.