Expected callups include top prospect Hamilton
Expected callups include top prospect Hamilton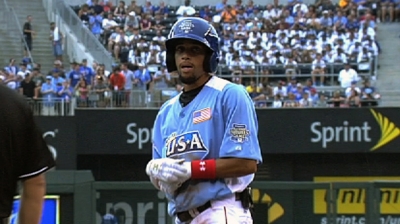 DENVER -- With the Reds maintaining their grip on a Wild Card berth and staying within 3 ½ games of first place in the division despite losing their series opener in Colorado on Friday, they are poised for a dramatic influx of talent when the rosters expand Sunday.
Heading the list of potential callups is shortstop-turned-center fielder Billy Hamilton, rated the Reds' No. 1 prospect and No. 17 in Major League Baseball by MLB.com, largely as a result of his untouchable speed.
Hamilton set a professional baseball record in 2012, stealing 155 bases in 192 attempts over 132 games split between the Reds' Class A and Double-A affiliates. To steal those bases, he had to get on base, and his 2012 successes at the plate were impressive. He hit .311 with a .410 on-base percentage, and though his numbers have fallen off in a full season at Triple-A Louisville, he still leads the International League with 75 steals in 90 attempts, 33 more steals than the next closest speed merchant.
Hamilton is one of six players poised to join the Reds when rosters expand Sunday, though he will most likely make his much-anticipated big league debut when the Reds return home for a 10-game homestand Monday.
The Reds already made one key move in advance of Saturday's Waiver Trade Deadline, when rookie right-hander Nick Christiani was optioned to Triple-A Louisville on Friday, bringing veteran southpaw Zach Duke to the Reds in time to be eligible for a spot on the postseason roster. Duke threw 1 2/3 scoreless innings in Friday's 9-6 loss to the Rockies.
Christiani pitched well in his Major League debut, pitching 1 1/3 scoreless innings to finish last Friday's 6-4 loss to the Brewers. He walked one, struck out one and allowed no hits. It was his only appearance with the Reds, but he will be back soon.
"He's going to go and pitch, and then come join us at home," manager Dusty Baker said.
The Reds anticipate calling up three players from Louisville for Sunday's series finale with the Rockies, including infielder Henry Rodriguez, outfielder Derrick Robinson and right-hander Curtis Partch.
They anticipate three more moves when they return home Monday to face the Cardinals. The Reds expect to purchase the contract of Hamilton from Louisville and to recall infielder Neftali Soto. Catcher Corky Miller should also return from his stint on the 15-day disabled list. He is recovering from a right quad contusion following a home-plate collision Aug. 7 against Oakland and was 1-for-2 as a designated hitter in a rehab start at Columbus on Thursday.
Hamilton has played his entire career at short, but the Reds feel his speed is better suited to center field, and the 22-year-old from Mississippi has made a comfortable transition, eager to find the fastest path to the Majors.
After he led five different levels of Minor Leagues in steals over four seasons, it should be no surprise that Hamilton has found a fast track to contribute to the Reds pennant race.
Owen Perkins is a contributor to MLB.com. This story was not subject to the approval of Major League Baseball or its clubs.