Seeking a lefty for 'pen, Reds call up Duke
Seeking a lefty for 'pen, Reds call up Duke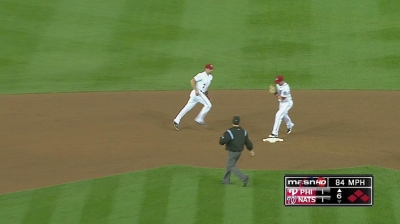 DENVER -- With an eye to October, the Reds purchased the Triple-A contract of left-hander Zach Duke to bolster the bullpen while sending right-handed rookie Nick Christiani back to Louisville, shortly ahead of Saturday's Waiver Trade Deadline. To make room on the 40-man roster for Duke, the Reds designated right-handed pitcher Justin Freeman for assignment.
"I'm very happy, very excited," Duke said of the move, returning to the Majors after being released by Washington in June and regaining his game in Louisville. "I'm ready to help this team win games."
The 30-year-old Duke struggled in Washington in the first few months of the season, posting an 8.71 ERA in 12 games and 20 2/3 innings before his June 10 release. He was a starter for the first six years of his big league career in Pittsburgh, then was used primarily in relief in Arizona in 2011 and with Washington in 2012, when he posted a 1.32 ERA in eight games before faltering this year.
"I didn't perform very well with the Nationals," Duke said. "I am certainly [throwing] better than earlier in the year. I got more regular work with the role I was in there in Louisville. I got in a good groove. I'm commanding the ball well and mixing it up well."
Though rosters expand Sunday, the move before the end of August makes Duke eligible for the playoff roster and gives the Reds a more balanced bullpen. The Reds now have three active left-handers: Duke, Manny Parra and closer Aroldis Chapman.
"I've never been opposed to having three lefties," manager Dusty Baker said. "The Pirates always had three lefties back in the day when Jim Leyland was there.
"It's hard with one lefty, because you have to wait until the opportune time. If you have two, you can throw one in the sixth and one in the eighth. There was a lot of pressure on Manny [Parra]. There was pressure on us about when to put Manny in the game. The game could have been lost in the sixth, or it could have been lost in the eighth. Duke will probably be the secondary lefty, and Manny will be the primary lefty. That's the plan."
Duke thrived in Triple-A, going 2-0 with a 1.30 ERA in 26 games spanning 27 2/3 innings. He gave up only five walks while striking out 34.
"I'm just trying to be crafty," Duke said of the adjustments he made since coming from Washington. "Really the whole thing is just executing. The hitter will tell you what pitch you should throw, and then it's a matter of execution. I feel like I'm executing right now."
Owen Perkins is a contributor to MLB.com. This story was not subject to the approval of Major League Baseball or its clubs.