Due to Minor League playoffs, Astros to limit callups
Due to Minor League playoffs, Astros to limit callups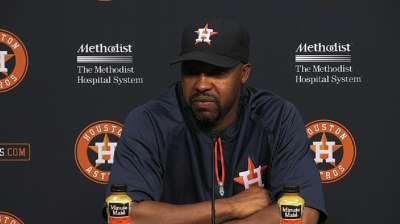 HOUSTON -- Clubs will be cleared to expand their rosters on Sunday, but don't expect a huge wave of Minor Leaguers to join the Astros that early.
With at least five farm teams heading to the playoffs, it's unlikely the Astros are going to disrupt the flow of a championship push by plucking a bunch of players from the upper levels of their organization.
Triple-A Oklahoma City entered play Friday with a commanding 80-60 record and a playoff spot already wrapped up. That greatly affects how the Astros will act on Sunday and beyond.
Manager Bo Porter said they'll bring a small wave of players up on Sept. 1, and then have "a few more guys" join the club after the playoffs.
"They've played so well all year and put themselves in position to have this opportunity to win a championship," Porter said. "From an organization standpoint we are going to call up a few guys, but we are going to be cognizant to make sure they have the pieces to compete for a championship, because they've done a great job all year. We're not going to strip their team down at this juncture because we have the opportunity to call people up in September."
Alyson Footer is a national correspondent for MLB.com. Follow her on Twitter @alysonfooter. This story was not subject to the approval of Major League Baseball or its clubs.