A-Rod a late scratch with flu-like symptoms
A-Rod a late scratch with flu-like symptoms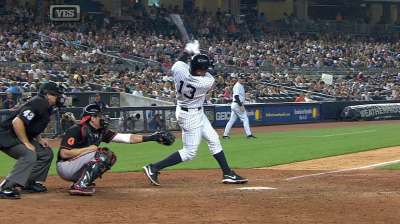 NEW YORK -- Alex Rodriguez was a late scratch from the Yankees' lineup on Saturday with flu-like symptoms.
Rodriguez was playing third base and batting fifth in the original lineup. The Yankees announced the lineup change approximately 45 minutes before the start of Saturday's game against the Orioles.
"He was really sick last night and he played, and I texted him this morning and he said he wanted to try," manager Joe Girardi said. "He did some work in the cage, and then we saw him and he just didn't look good. He was pale. Hopefully tomorrow he's a lot better."
Mark Reynolds -- who was slated to start at first base -- replaced Rodriguez at third, and Lyle Overbay came off the bench to play first.
Rodriguez has hit .280 with four home runs and 10 RBIs in 22 games this season. He was 1-for-4 at the plate with an RBI single in the Yankees' win over the Orioles on Friday.
Josh Vitale is an associate reporter for MLB.com. This story was not subject to the approval of Major League Baseball or its clubs.