Big series features MVP candidates Yadi, McCutchen
Big series features MVP candidates Yadi, McCutchen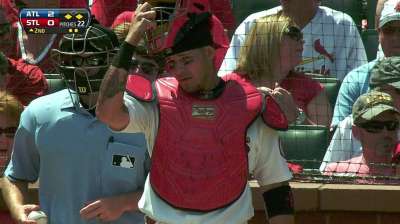 PITTSBURGH -- While there is a month before members of the Baseball Writers' Association of America will mail in their votes for the National League's 2013 Most Valuable Player, this weekend series in Pittsburgh features two of the top candidates.
Cardinals catcher Yadier Molina is not only a favorite to win his sixth consecutive Gold Glove Award, but also entered Friday as the NL batting title leader with his .333 average. The work he has done to help usher 12 pitchers through their rookie season has been noticed, too, even if it cannot be quantified with statistics.
Pirates center fielder Andrew McCutchen, though, is having a similarly spectacular season. He ranked third in the NL with a .323 batting average and third with an on-base percentage of .401. He and St. Louis' Matt Carpenter were tied for the NL lead with 51 multi-hit games entering Friday.
So who has the edge? It's hard to tell.
"My criteria is always the same, the baddest dude in the league," Pirates manager Clint Hurdle said Friday. "Should Molina get votes? Absolutely? Should our guy? Absolutely. You saw the different challenges when Molina isn't in the lineup, they're a different team. We'd be a different team without McCutchen."
"I would say that's a pretty good definition," Cardinals manager Mike Matheny said of Hurdle's descriptor. "I think it's the guy who brings the most value to his team, more than anything else. Maybe I'm saying that because I know what Yadi does for us. You have to take everything into consideration. There are a lot of players out there having some very strong seasons. And the player you're talking about in McCutchen is a phenomenal player in the outfield and does a lot of impressive things out there.
"But I would love for people to see -- and once again, this is very biased coming from a catcher -- the due credit given to a player who does what Yadi does behind the plate."
Last year, McCutchen and Molina finished third and fourth, respectively, in MVP voting. Both were Gold Glove winners. How September plays out for both individually -- as well as their teams -- could create separation in their candidacy.
Of course, Matheny will continue to stump for his catcher regardless.
"Yadi has had a terrific season," Matheny said. "When you start looking at value to a team, value to a league, the offensive numbers speak for themselves. He's having a great season. He's a clutch player. But what he does behind the plate, it's really hard for me to even explain the value he brings to our club and what he does for a team and what he does against the opposition. He's a force to be reckoned with behind the plate and he has developed into a top-tier hitter."
Jenifer Langosch is a reporter for MLB.com. Read her blog, By Gosh, It's Langosch, and follow her on Twitter @LangoschMLB. This story was not subject to the approval of Major League Baseball or its clubs.