Reynolds making key adjustments at plate
Reynolds making key adjustments at plate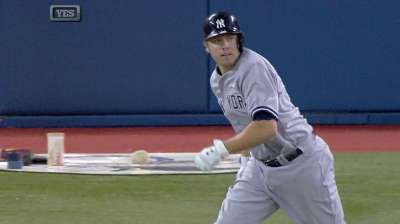 NEW YORK -- Mark Reynolds has 198 career home runs, and he's tapped his toe before each one of them.
But after some early season struggles and a few recent adjustments, the toe tap is no longer a part of Reynolds' swing.
"Early on when I was over here, even dating back in Cleveland, I was late on a lot of pitches," Reynolds said. "So we looked at video, figured some stuff out, and we're basically trying to get my timing earlier."
Instead of tapping his toe before swinging, Reynolds has worked on getting his foot down earlier in order to speed up his timing.
Reynolds saw results in his two games prior to Saturday's against Baltimore, going 6-for-8 with three doubles and two RBIs. Overall, he entered batting batting .316 with two home runs and seven RBIs over 12 games with the Yankees.
"It's definitely gotten me on time more. I'm able to recognize more pitches, not swing at as many balls, and make better contact," Reynolds said. "So we'll see if I can stay consistent with it and keep swinging well."
Reynolds started at third base and batted sixth against the Orioles on Saturday.
"I've seen him get really hot. He's the kind of guy who can drive in 30 runs in a month," manager Joe Girardi said. "We've just had him for a short period of time. But he made a slight adjustment, we like what we see, and we're going to continue to play him."
Josh Vitale is an associate reporter for MLB.com. This story was not subject to the approval of Major League Baseball or its clubs.