Pagan sparks Lincecum, Giants in victorious return
Pagan sparks Lincecum, Giants in victorious return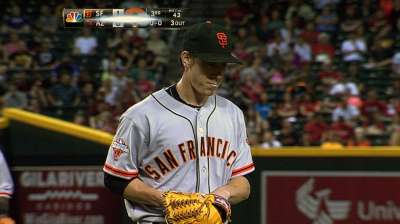 PHOENIX -- Feeling a connection with his teammates, Angel Pagan sent Tim Lincecum a text message before the right-hander completed his no-hitter at San Diego on July 13. "I wanted to tell him he was pitching a great game," Pagan said.
On Friday night, Lincecum and Pagan could congratulate each other in person.
Lincecum broke a six-game losing streak against the D-backs with help from Pagan, who was activated off the disabled list two days before his expected return to score the game's only run in the Giants' 1-0 triumph.
Forced to miss 84 games with a surgically repaired left hamstring, Pagan made an immediate impact as he returned to center field and the leadoff spot. He doubled on his first swing to open the game before advancing on Marco Scutaro's sacrifice bunt and scoring on Brandon Belt's sacrifice fly.
"I'm glad we decided to bring him [back] a couple of days earlier, or we might still be playing," Giants manager Bruce Bochy said, joking.
The Giants might have welcomed a prolonged reunion. Unable to field their projected Opening Day lineup since Pagan was injured on May 25, the Giants reveled in the energy that his mere presence provided. Pagan's galvanizing influence on last year's offense -- demonstrated by his 95 runs and 15 triples, a San Francisco-era record -- left a lasting impression.
"It's certainly exciting," right fielder Hunter Pence said. "When I saw he was back in there, I was pleasantly surprised."
"I think it will be a little bit of a sparkplug for all the guys," right-hander Matt Cain said. "He was a big part of what we did last year. He looks like he's right, and when he's feeling right, he's a good guy to have."
"That was my purpose, coming here and trying to bring as much energy as I can," Pagan said.
Pagan's trip home from third tested his health, since Belt's fly to center field was relatively shallow. But Pagan had sufficient speed to beat A.J. Pollock's throw home and enough baserunning skill to slide under catcher Miguel Montero's tag.
This won't be an everyday occurence during the season's final month for the Giants, who are wary of overworking Pagan.
"Two games on, one off, something like that," Bochy said, estimating Pagan's playing regimen.
When Pagan played his final game before being sidelined, the Giants led the National League West. They're currently struggling to ascend from last place.
"There's no question we missed Angel," said Bochy, who quickly added that Pagan's absence wasn't solely responsible for the club's tailspin. "We had too many hiccups in other areas."
The Giants didn't muster a hit for the final five innings. But with the combination of Lincecum, the bullpen and some remarkable defense, it didn't matter.
Lincecum (8-13) launched the effort with six stubborn innings against a team he hadn't beaten since Sept. 29, 2010.
"Personally, that was really big for me, because I have had some struggles against them," said Lincecum, who fanned only two batters. "They manage to get a big run off me when they need it or a big inning that kind of puts us in a big hole.
"I think that was the best fastball command I've had in a while."
"He threw a lot of first-pitch strikes, so that let him use his secondary pitches effectively," Arizona third baseman Martin Prado said of Lincecum.
Lincecum stranded seven baserunners, including four in scoring position. Lincecum performed his best escape act in his final inning, when the D-backs loaded the bases with one out. Lincecum struck out Montero on three pitches, all changeups, and benefited from third baseman Pablo Sandoval's deft, diving backhanded stop of Pollock's grounder down the third-base line. Sandoval straightened and threw to first base for the out, possibly preventing three runs.
Second baseman Marco Scutaro made a similar play going to his left in the first inning, shortstop Brandon Crawford hustled into short left field to snare Aaron Hill's second-inning bloop and catcher Buster Posey threw out Hill on a fourth-inning stolen-base attempt. Scutaro also deftly handled Prado's sharp grounder to start an inning-ending double play in the eighth.
Javier Lopez, Santiago Casilla and Sergio Romo each contributed a scoreless inning. Romo not only recorded his 33rd save but, according to Stats LLC, also extended his streak of scoreless innings at Chase Field to 20, the second longest by a visiting pitcher. Hideo Nomo built a 32 1/3 scoreless streak from 1999-2004. Stats LLC also determined that Romo has been unscored upon in 23 consecutive appearances at Chase, the longest streak by any visiting pitcher at any ballpark since 1921.
Chris Haft is a reporter for MLB.com. This story was not subject to the approval of Major League Baseball or its clubs.